A cycling enthusiast, Adrien experienced a 280 km cycling tour through the Occitan landscapes. For him, traveling by bike means freedom. Freedom to discover beautiful landscapes inaccessible by other means of transportation.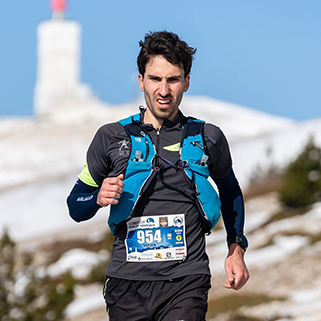 Cycling to travel with the wind in your hair, many have thought of it to enhance their vacations. Cycling to initiate the journey to the end of the region, still very few try it. And yet, traveling by bike, also called cycle touring, is as rich in wonderment on the road as it is in health benefits. Indeed, it is an economical mobility that enables you to explore paths sometimes unknown to other means of transportation and to meet new people with an almost infinite freedom.
And this is the crazy bet that Adrien Rambaud chose to present to us during our presentation of the traveler of the month of July 2021. Passionate about cycling, we presented his career at Morio where he carries the values of an ever more sustainable mobility. Today he presents us his itinerary from Toulouse through Occitanie. An adventure that has more than one surprise in store for us!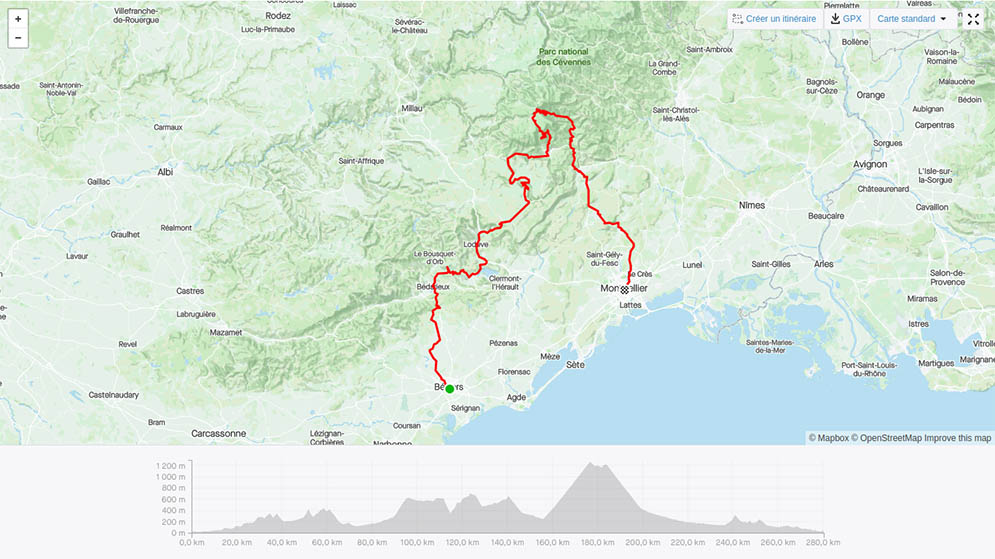 Ready, set, cycle!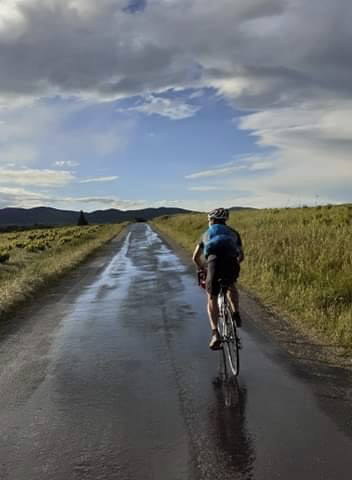 Wednesday at 4p.m.: the bags are packed, I get on my bike to meet Olivier at the Toulouse train station. I feel both excited to discover a new part of France, and a little stressed at the sight of the clouds that are coming over Toulouse and will surely follow us all evening. Moreover, the weather forecast is not very optimistic for any stay, and it's a little sport challenge that is waiting for me because cycling is not the only thing we'll do during this trip. Indeed, my favorite sport being the trail, we planned to run every day between 6 and 18 miles around our lodging.
At 6p.m., we arrived in Béziers under a stormy sky. Olivier takes a short break to change shoes. I decided to keep the flat pedals, as I didn't have the space to fix my trail shoes on the frame (since then, I have invested in a better pannier to keep the automatic pedals for my next trips.).
We then left for Bédarieux (more precisely Dio-Et-Valquières), at the gates of the Haut-Languedoc, 30 miles from Béziers. A place I had already had a taste of, having climbed several times in the Caroux, about 12 miles away.
Coping with Bad Weather, an Adventure Full of Memories
After 9 miles, as we feared, a heavy rain falls on us. We have to take out gloves and jackets to avoid catching a cold. It's hard mentally because we didn't expect to be soaked like this until we reached the lodge. But 15 minutes later, it's quite the opposite: a clearing begins to appear beyond the massif, then rays of sunlight, and a superb landscape gilded by these rays offers itself to us. We are drenched, but we enjoy it fully while moving forward. The emotional roller coaster has once again played its role: it goes from frustration to immense joy in a short time. And we are serene at the end of our journey because the lightning lasts.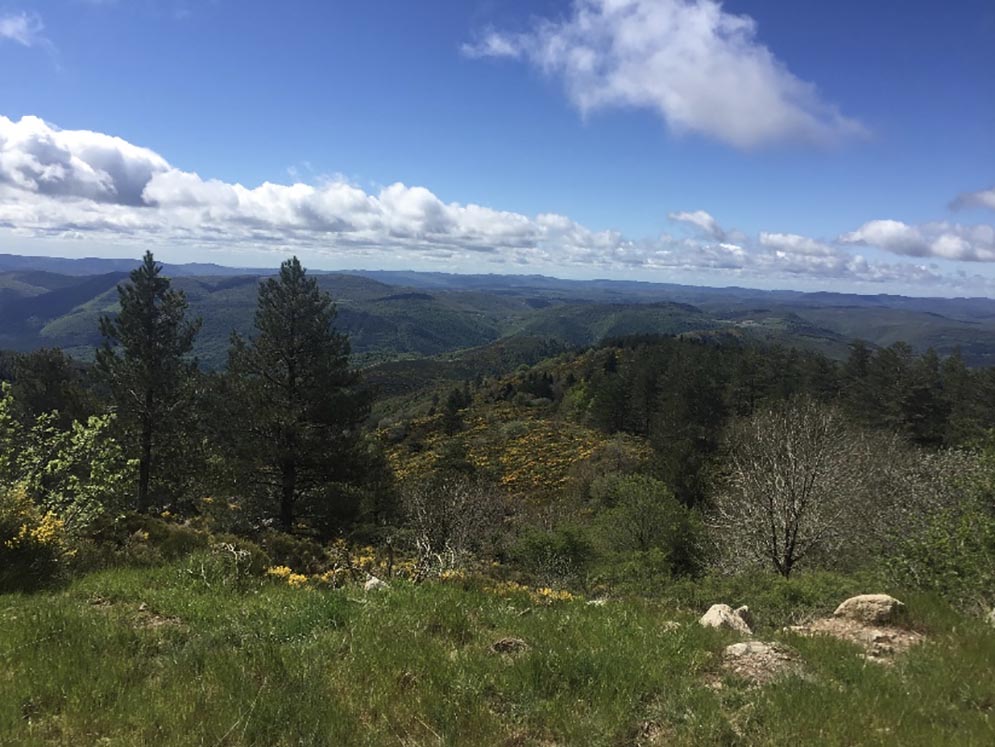 Cycle Tourism, a Great Way to Meet People
After crossing the first massif, we go down to Bédarieux, then finish with a small steep climb to our gite, where we are welcomed like stars. The owner knows well the sportsman world to which we belong. So we can talk about this world, and she prepared us a meal with a lot of vitamins and proteins. Just what we needed to be in shape the next day!
Thursday morning, as planned, we start with a little jog up to the plateau above the gite, with a view on a part of the regional park, between the wind turbines. This time the sky is perfectly blue and will remain so all day.
Jewels of Occitanie on our way : the discovery of Larzac
Around noon, we leave for Alzon, at the Gard / Aveyron border behind the Larzac. A journey of about 50 miles. After a break due to a flat tire, we quickly arrive at the foot of the Salagou lake, a notable place of the Hérault with a beautiful red landscape due to the ruffe, a stone full of iron oxide which gives it this so particular color. We keep on riding until Lodève where we have a good snack made of pizzas, croque-monsieur and pancakes (yes it's the great advantage: we can stuff ourselves, it will be quickly eliminated!)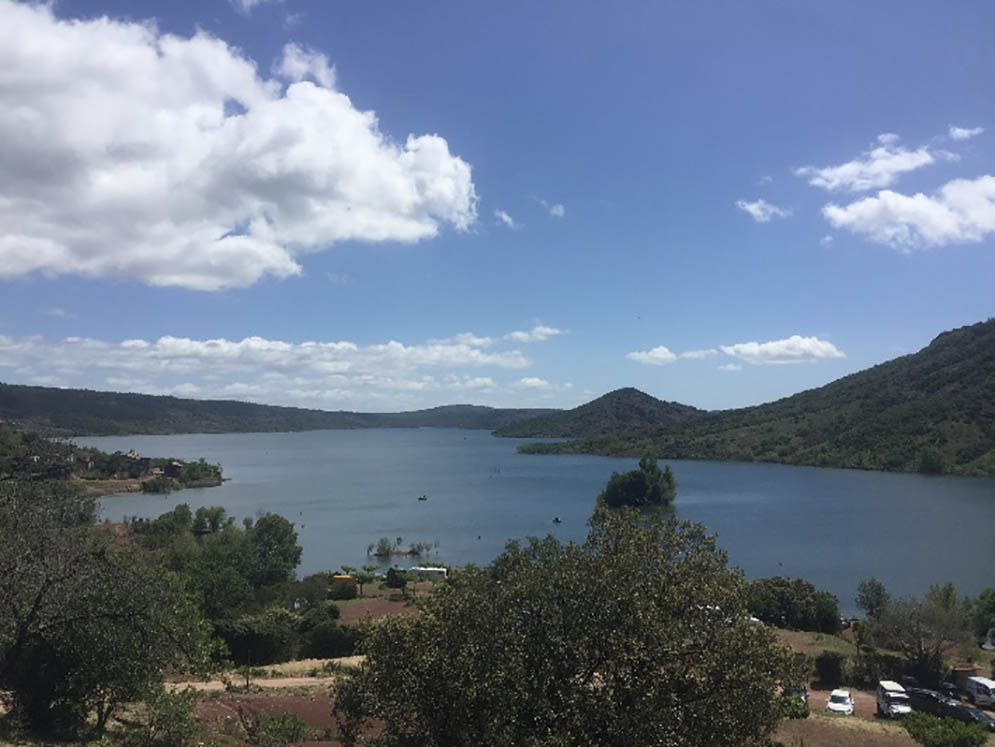 We take our time as we have about 30 miles left for the whole afternoon. We leave then towards the famous plateau of Larzac.
Indeed, even if few people remember it, its name is well known for the fight of Larzac, against the extension of a military camp in this place. The ascent is not very steep to get there, then we cross the causse which is indeed very wild and quite arid, with some livestock. On the other side, a superb spectacle awaits us: the cirque of Navacelles.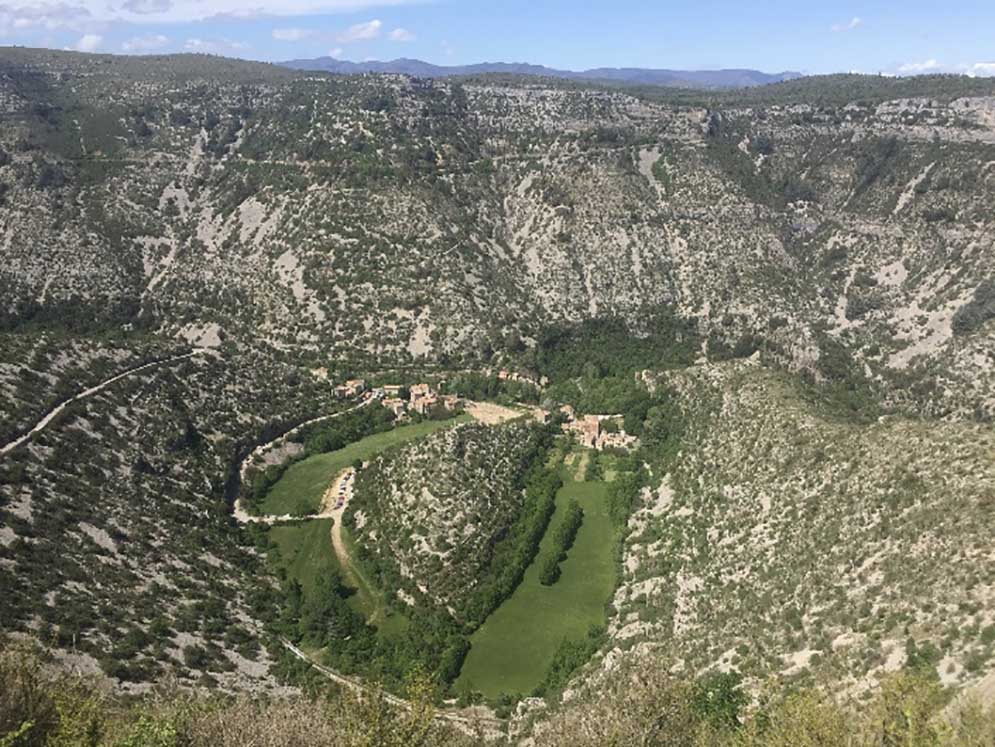 A splendid opening between the two plateaus, which arrives in the middle of nowhere, with a village at the bottom. Again, the sublime views give me feelings of ecstasy. This French Grand Canyon can be seen from the tourist site built for this purpose, but it is even more impressive when one goes down in it then goes up on the other side.
After crossing it, we only have 9 miles left with a long slight uphill stretch, which is not my cup of tea. Finally we arrived in Alzon around 5p.m., in a communal gite more primitive than the previous night. The welcome is also colder, the place not being managed by professionals. The first thing to do is to go shopping for meals, without skimping on the local charcuterie and cheeses such as Pélardon.
An Invitation to Mountain Running: Valleraugue and the Cevennes
Friday morning, in spite of a light rain we set off to the Saint Guiral, on a 12-mile trail loop. Unfortunately, at the top the view is completely blocked by the fog. We had lunch in Alzon before leaving for 45 miles to Valleraugue, a key place of trail and mountain running.
We then enter the Cevennes Park by a long 6-mile descent. Then, when we arrived at Le Vigan, we turned for the only long climb of the day to the Col des Mines, 15 miles long (but with a low percentage). The second part was sublime because the blue sky was back, and we could see all the way to the Mediterranean Sea, with the entrance of the Cevennes in the foreground, and the famous Pic Saint-Loup, easily recognizable, between the two.
At the top of the pass, there is only a slight false flat before we switch to Valleraugue, and at the beginning of the descent, the Ventoux appears, even though it is more than 125 miles away. As a French landforms lover, I am delighted! Especially to see the giant of Provence, which I didn't expect at all. And it's supposed to be only a foretaste before the famous view on top of Mont Aigoual the next day!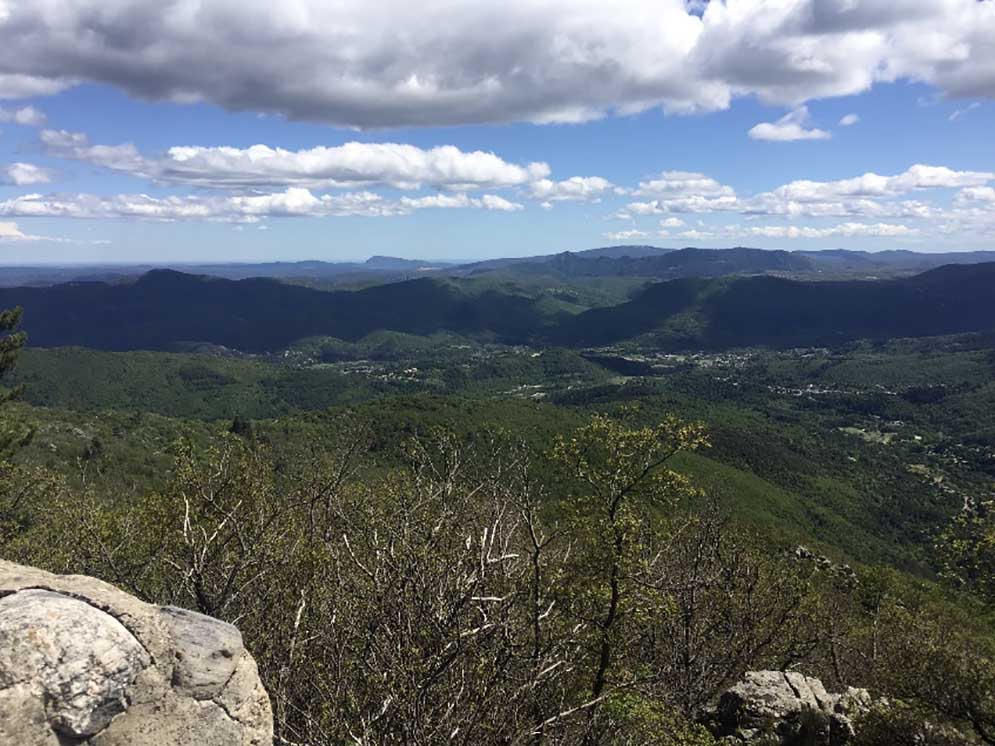 When we arrived in Valleraugue, our room was in a strange state: totally barricaded because of the fear of a killer walking in the nature 6 miles from here (he surrendered the same evening). This time we enjoy a half-board with home-made lasagna which the owner bragged about in the morning by message. Very good, yet a little light in quantity for two sportsmen who made 5h of sport in the day.
After effort comes comfort: welcome to Montpellier!
The next day, we leave for the highlight of the trip, the ascent of Mont Aigoual by the 4,000-step trail. Although it is not well known, it is a legendary climb in the world of trail running. Unfortunately, all the way up, and therefore at the top, we are in a thick fog. It will be a chance to come back to enjoy this so-called beautiful view! Our 18-mile trail tour takes us about 4h30.
While we were supposed to stop there for the day, Olivier was invited to join some friends between Valleraugue and Montpellier, our final destination.
So we continue with 18 miles of cycling (rather downhill) to Saint-Bauzille-du-Putois along the Hérault river, where we notice the remains of all the Cevennes rains that passed by, and we can imagine the violence of these periods of very heavy weather. The rain of Wednesday is surely a light drizzle in comparison!
We sleep in a house with the friends of Olivier and spend a good evening with a more copious meal than the previous day! It is a pleasure to have a little more civilization and comfort, especially around such nice people with whom we share common interests. The evening flew by.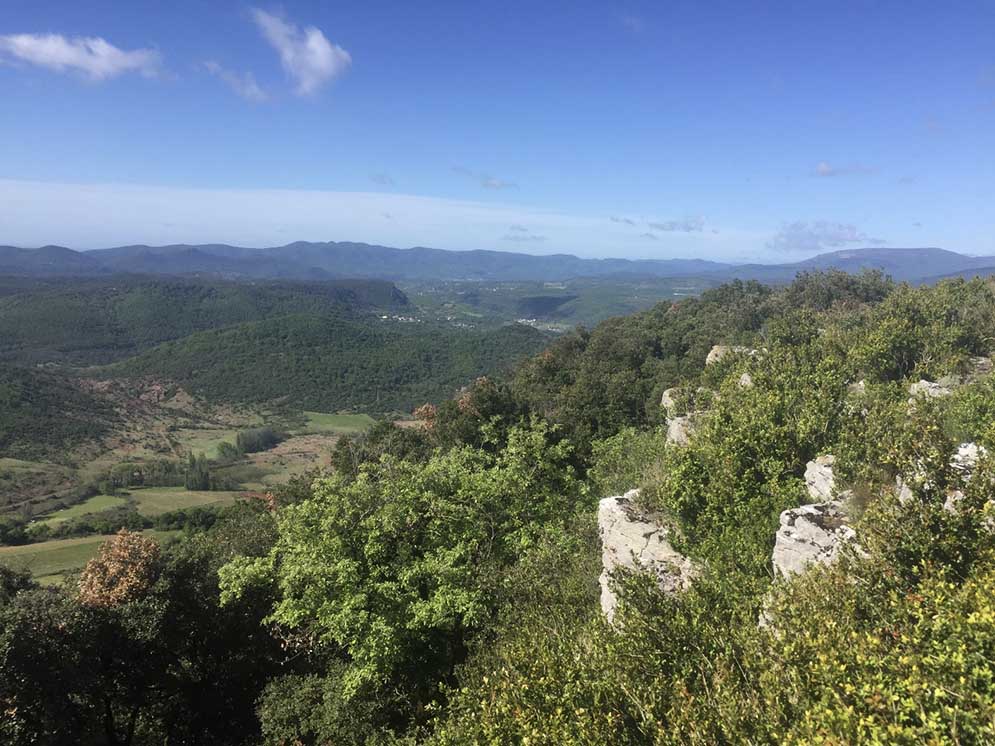 On Sunday, as usual, we went for a run in a small rocky massif (out of the Cevennes, the difference in altitude is less frequent). Then after lunch and thanking them for the warm welcome, we set off for 28 miles through the vineyards towards Montpellier where our train was waiting for us. Strangely enough, we are still in good shape and we ride at a good pace. Maybe we had the wind at our backs!
Arrived in Montpellier, we finish our journey with a chemical delicacy but quite comforting (for ethical reasons, I almost never eat this kind of food anymore, but I must admit that it is good for the morale after a long journey)
Olivier not having found a place on the Intercité train, I leave him at the station and peacefully return to Toulouse, the head full of memories, and a conclusion.
Before traveling the world, I advise everyone to travel through France: we have on our doorstep beautiful landscapes that not many people are aware of. And although we can already enjoy them fully by car, riding a bike through them spices up these trips even more.