Slow and sustainable travel in Auvergne :
our ideas for holidays in Haute-Loire, France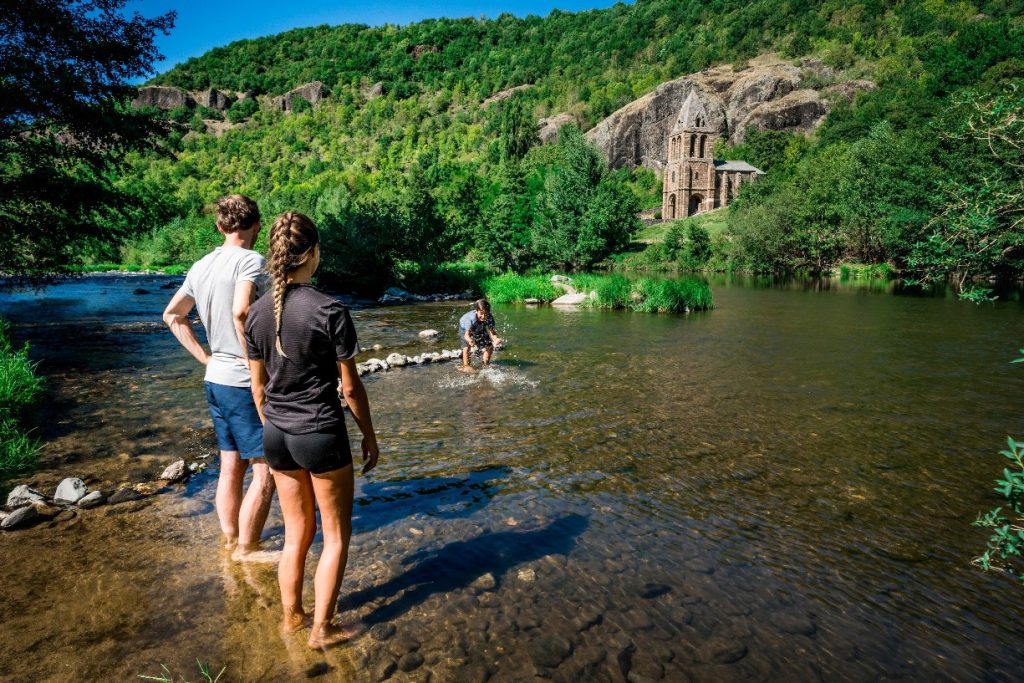 RResourcing by nature, Auvergne is an obvious slow-tourism destination! Together with Flockeo, we wanted to show the points of convergence between slow tourism and sustainable tourism.
Slow tourism in Haute-Loire is made possible by committed professionals, and made visible by platforms like Flockeo, which federate these innovative offers.
Slow tourism and sustainable tourism: the obvious marriage!
Sustainable tourism, is a development model that does not work at the expense of others, but in collaboration with them. Others = human beings (social aspect), economic stakeholders (economic aspect) and nature (environmental aspect).
Slow life, is an alternative way of consuming and living. It emerged in reaction to an urban society seen as stressful, time-consuming, devoid of meaning and governed by consumerism.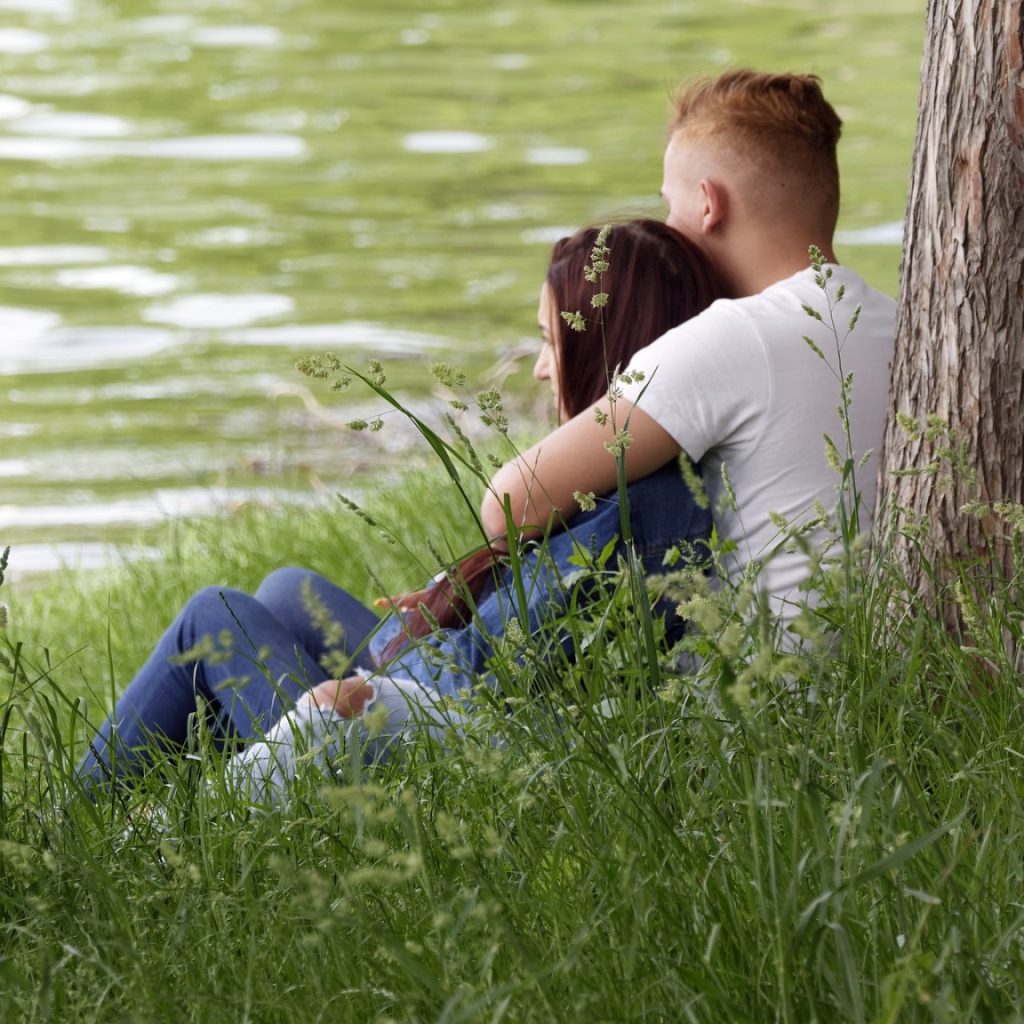 Slow life applied to tourism involve to:
Slow down…

-> soft mobility, trekking…

Reconnecting with nature

->nature-friendly vacations

Giving a meaning, human links

-> locavore vacations and closer to the locals

Reconnecting with yourself and your loved ones

-> holiday-parentheses in places where everything is planned for
=> Slow-tourism is the art of taking your time during your stay. Slowing down is a natural way to learn about respect, the environment and its inhabitants. It is the quest for a more sustainable way to travel…


Tip 1: A slow tour in Haute-Loire Countryside
Preconceived notion No. 1: roaming = hiking! Especially here, where our town of Le Puy-en-Velay is one of the most popular starting points for the Santiago de Compostela trail. Well, it's not all about hiking…
Preconceived notion N°2: roaming = sporty! Not only that: there's something for everyone. Let's be honest, though: when it comes to cycling, this is no towpath… But that's what electric assistance is for!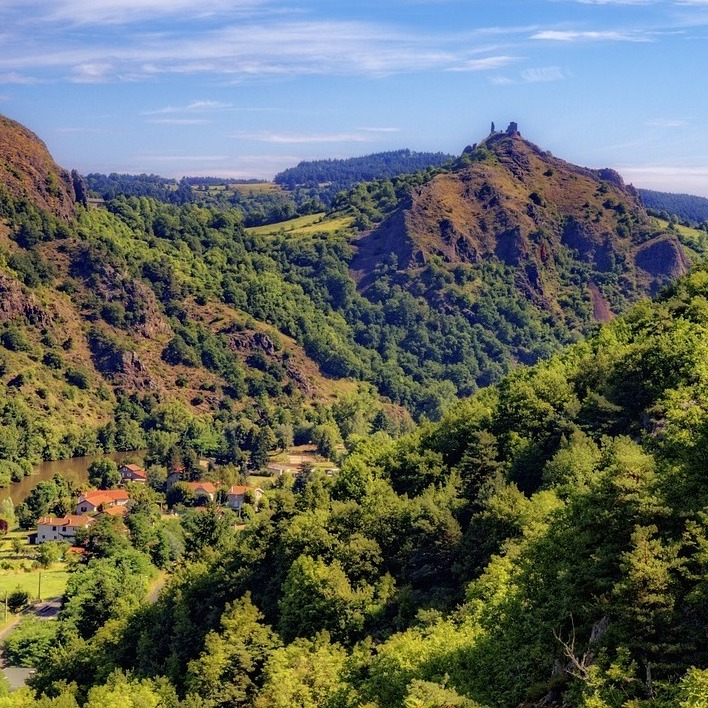 Cool or sporty trekking…
I recommend two mythical signposted routes in Haute Loire: the Grande Traversée de la Haute Loire en VTT (GTHL) or the Via Allier cycle route for cyclists:
The GTHL is a 620 km loop through the Haute-Loire and is one of France's 12 legendary mountain bike crossings.
The Via Allier is Auvergne's cycle route: almost 500 km of itinerary along the Allier river. It runs from its confluence with the Loire, near Nevers, to Lozère, close to its sources. Our section, the furthest upstream, plunges into untamed gorges. It's a bit more sporty, but still unsurpassed in beauty…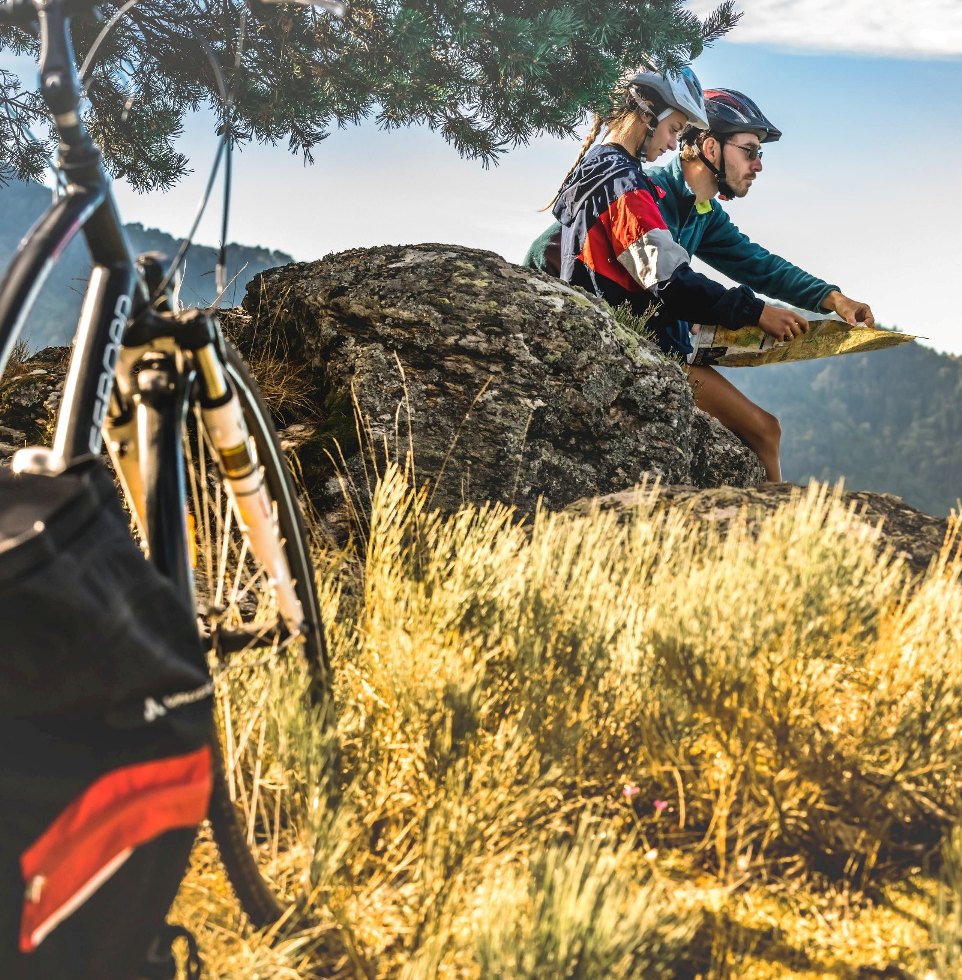 What we love about this way of traveling
You'll ride through some stunning landscapes: the Allier and Loire gorges, the volcanic lands of the Velay, Mézenc and Meygal, the forested plateaus of the Livradois, and more.
Bicycle touring is truly slow, because slow progress is part of the concept!
It's a sustainable way to travel, because it doesn't emit carbon.
These routes can be reached by train: there are several stations along the way.
The itineraries are flexible: you can adapt the stages to suit your needs.
Numerous attentive service providers await you before and during your journey: accommodation providers (some of which have the "Accueil Vélo" label), bike rental companies, bike guides, etc.
It's an experience we share: with these service providers, with your fellow travelers and with the people we meet along the way, especially local producers, restaurateurs and craftsmen…
The really cool plus: we make it easy for you to get organized
For the GTHL, the Maison Départementale du Tourisme has dedicated a page to the route, with downloadable stage maps and a list of accommodation along the way. The Via Allier has its own website, where you'll find everything you need.
Family canoeing and bivouacking with Hervé
We all dream of exploring the wilderness! But as a family, we need to be sure of our organization before we dare to venture out, especially when it comes to canoeing… That's what Hervé and his Tonic Aventure team offer us with their all-inclusive Explora Project holiday: "Canoë et bivouac en famille".
This itinerant canoe trip is supervised by a qualified guide in our wild and unspoilt Allier gorges. It's an opportunity for the whole family to experience a river descent (easy level). The cherry on the cake: two nights in a bivouac, with the rudiments of wilderness campsite and supplies of local produce. Your guides take care of everything, so all you have to do is take it easy… Well, almost!
What's slow and green:
Soft mobility (canoe) + accessible by train with shuttle from the train station
Organic, local, waste-free food from local producers met along the way
Zero consumption bivouac accommodation
Total disconnection in a calm, unspoilt natural setting
Sharing moments around the fire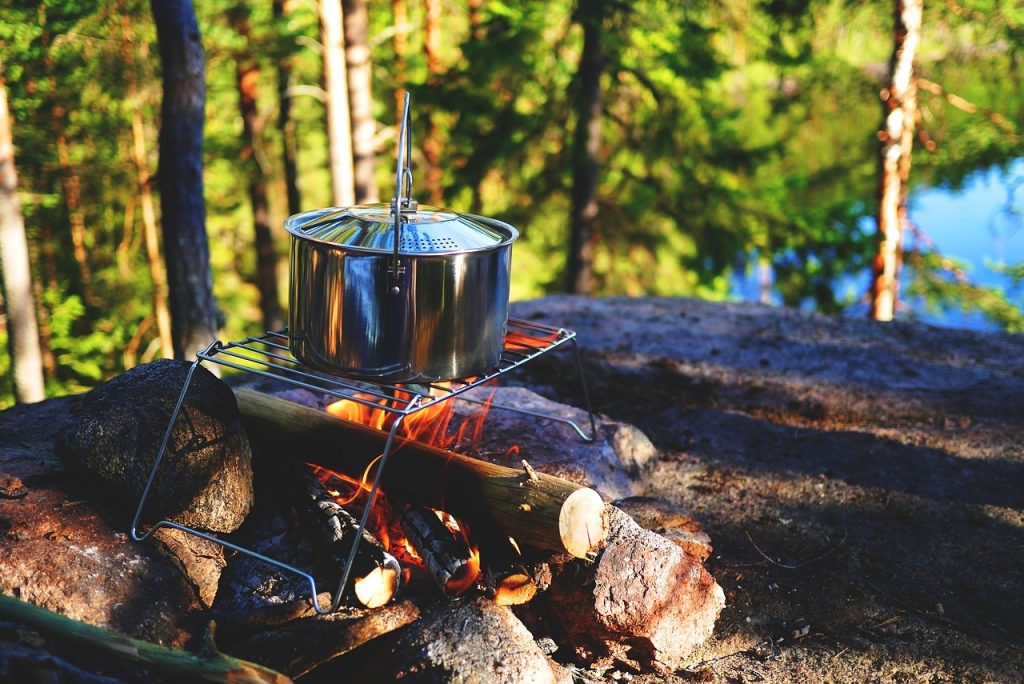 Tip 2: Stay in an eco-lodge in the heart of the nature of Haute-Loire
If you're looking for a place to stay in the heart of nature for an eco-tourism vacation, here are two ecofriendly accommodation addresses that are sure to please…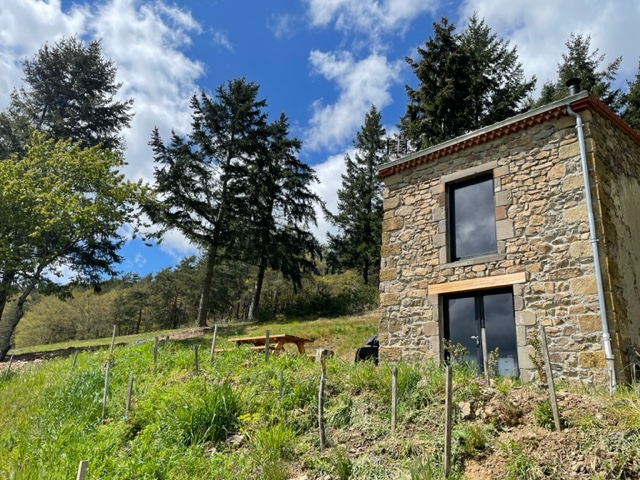 In Janette's ecological homestay, le Vallon d'Armandine
My contribution… The Vallon d'Armandine is our home! A tiny homestay opened in 2019 at the very end of our building. This old stone farmhouse has been in our family for almost 200 years! When we decided to move back in, we also wanted to show it off in our own way: eco-materials, a lot of upcycling or refurbished objects, homemade products, short circuits, eco-gestures, and so on. What makes us so special is surely this invitation to slow travel, but also to ecotourism. In fact, everything we do is designed to help couples and families discover the environment around them.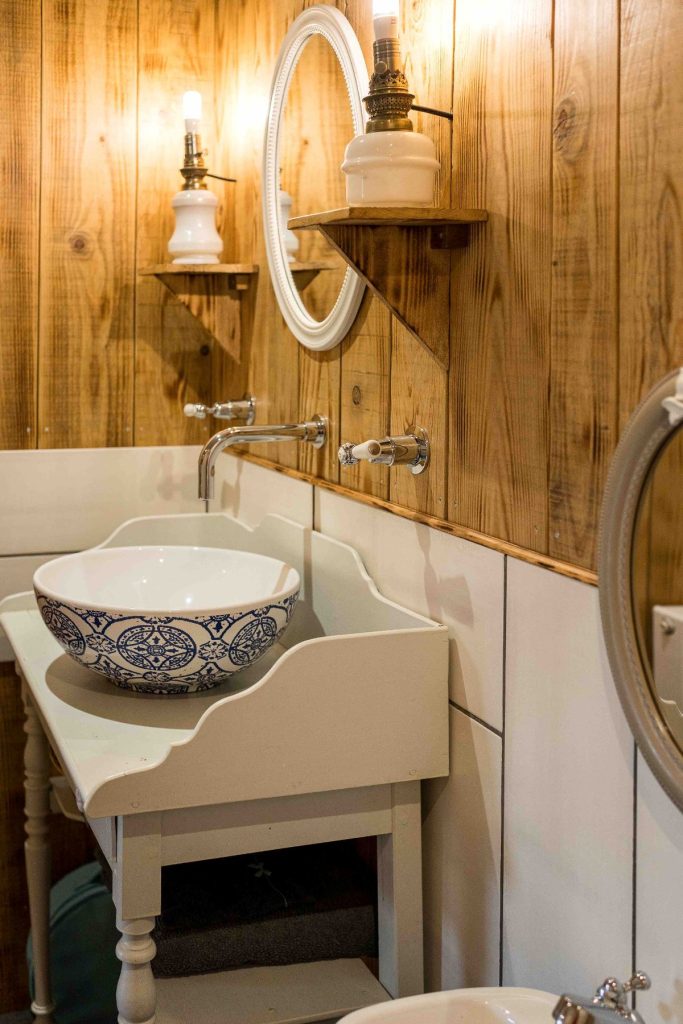 Janette, "Guide-Hôte
Host-guide: that's often how I define myself. As a host, but also a guide by trade, I see hospitality in the broadest sense of the word. More than an optional service, the eco-tours I offer are above all a time for sharing.
Thousand and One things to do… with or without us
Chilling out on the bench in the middle of the meadow, while the kids play on the old vintage car.
Joining them for a treasure hunt in the village or a walk in the forest, with a game booklet to complete.
Sipping a local organic beer on the terrace with a view of the volcanoes at sunset (optional old vinyl playing in the background)
Being introduced as a couple to Shiatsu or forest baths
Having a fun and gourmet moment at an Auvergne cheese tasting workshop
Taking a private tour of a Romanesque cloister and sharing an aperitif made with local products.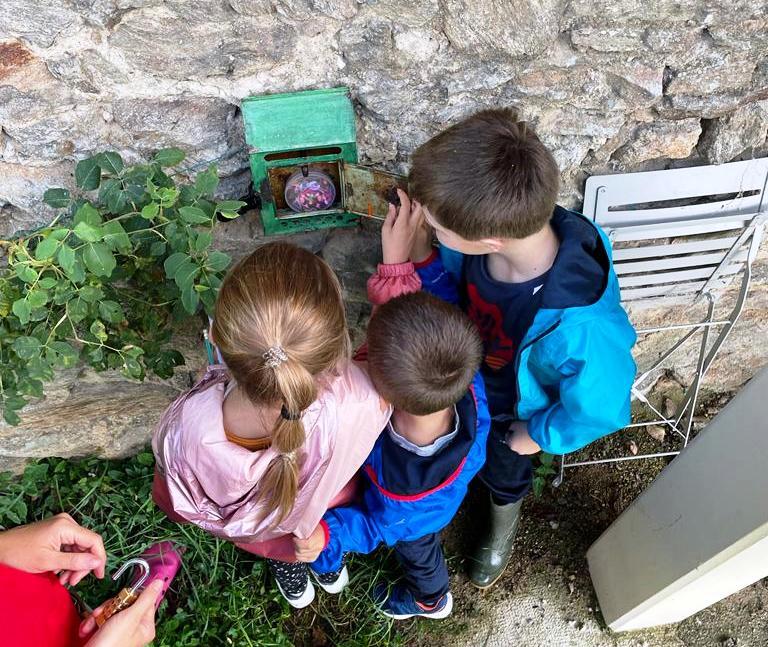 In Richard's former vineyard: La Garenne homestay in Haute-Loire
Richard's little refuge – La Garenne homestay is great place for an ecological weekend in Langeac area. You'll have to walk the last few meters, as the road doesn't go all the way. Electricity comes from photovoltaic panels and the toilets are dry. Only the water is connected to the mains… Ideal for a slow break, don't you think?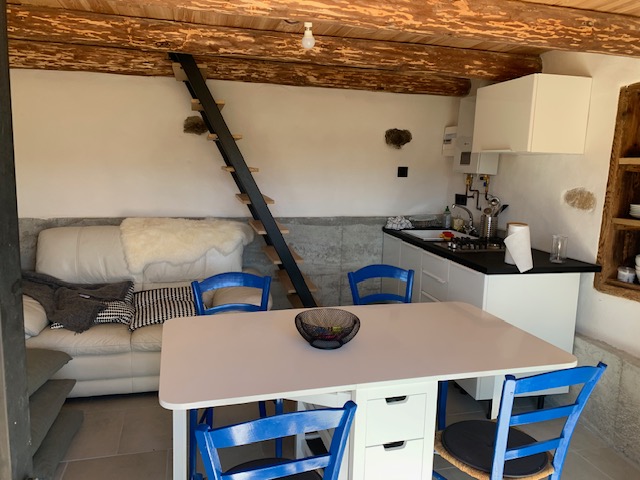 About Richard
Born into a farming family, Richard has a simple love of the land and its heritage. He has renovated an old winegrower's hut on a meadow that must once have been a vineyard' but which remains for him the playground of his childhood.
He used local materials' including wood found on the site and refurbished the cabin, first to house himself' then finally to open it up to guests…
A short walk from the gîte: by foot and across the fields (1h)' to Chanteuges
While there, you must visit the Conservatoire National du Saumon Sauvage with Pierre. With stars in his eyes, he'll tell you all about the fantastic story of the Atlantic salmon, which takes a round-trip ticket from the Allier River to Greenland and back: the journey of a lifetime and the longest migration of this species!
Don't miss the old Benedictine priory and its lovely cloister, at the top of the village
Dear locavore friends, go and have a meal at the "Trèfle à 4 feuilles" in Langeac. Guillaume offers refined, home-cooked dishes. He uses local produce, mostly organic.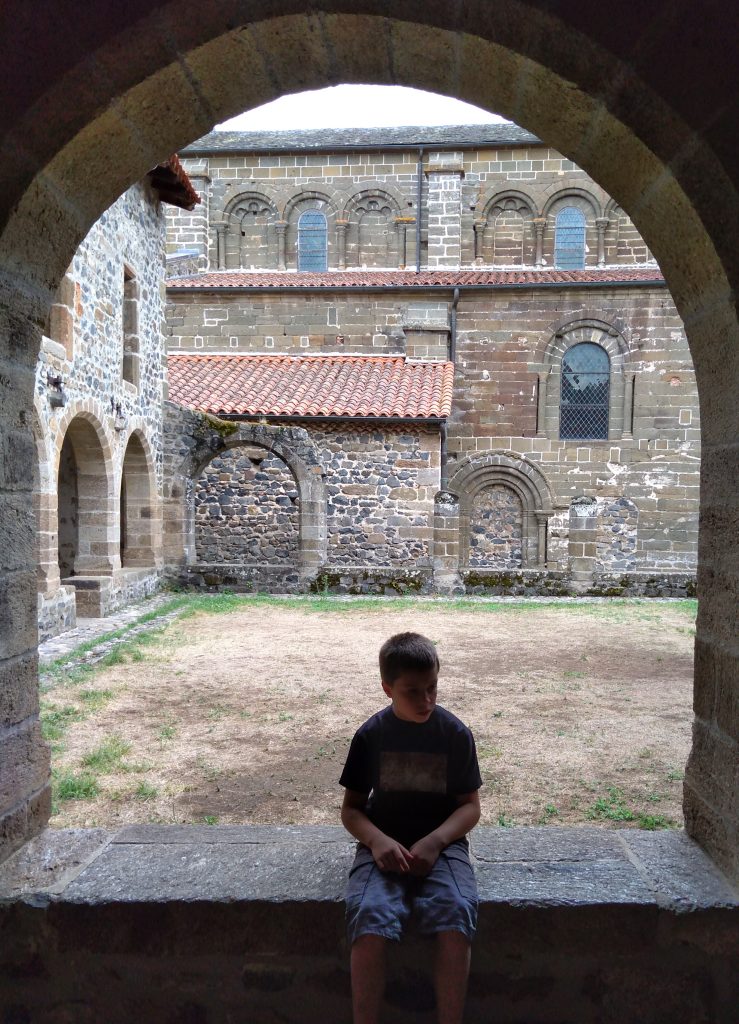 Tip 3: Disconnect at an eco-friendly campsite in Haute-Loire
With its super powers of disconnection, campsite in the great outdoors is so trendly! And do you know what? In Haute-Loire, we have several service providers who have committed their establishments to an ecological approach. Pure little green bubbles for eco-responsible family vacations in which you can just feel good…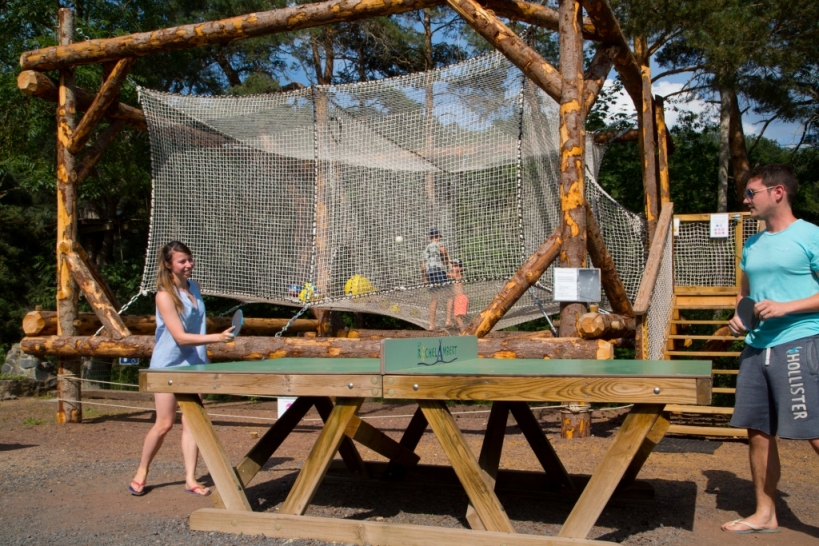 At Campsite de la Rochelambert, Magali and Michel's home
La Clef Verte !
La Rochelambert campsite has been awarded the La Clef Verte label: a guarantee of quality when it comes to eco-responsibility!
Their eco-responsible measures: in addition to classic eco-gestures such as LED lighting, turning off lights at night, water-saving devices, etc., there's a truly global, sustainable and coherent approach here.
For example, each room has its own little compost bucket that you empty into the communal bin. By the way, say hello to the bees at the apiary, who are doing their job as polinizers..
If you want to go further, you can give Michel and Magali a hand in the campsite's shared garden. And don't forget to take some vegetables home for lunch! And that's it: we've come full circle…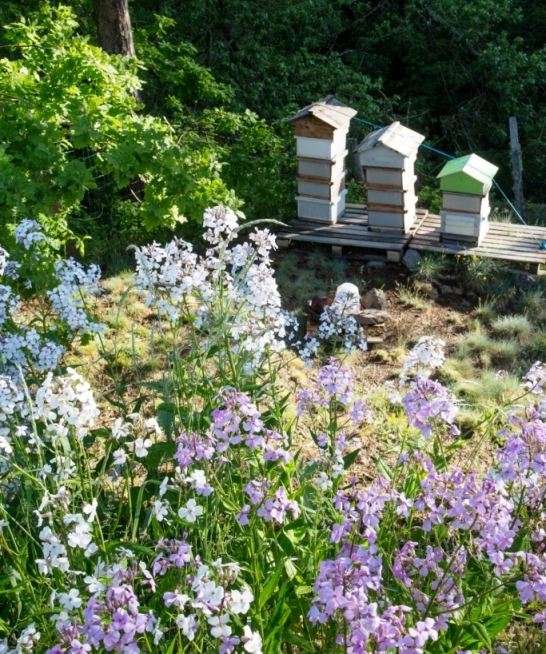 Activities without taking the car: what we like here is that you don't have to go far for activities…
In the campsite: yoga, meditation, local wooden playground for the kids, and the swimming pool whose water is warm, but almost unheated (thanks to the blanket!).
Starting from the campsite: hikes or electric scooter rides supervised by enthusiastic guides for an immersive immersion in the Haute-Loire landscapes.
Just a few minutes' walk from the campsite: the Château de la Rochelambert and the Canopy tree-climbing courses.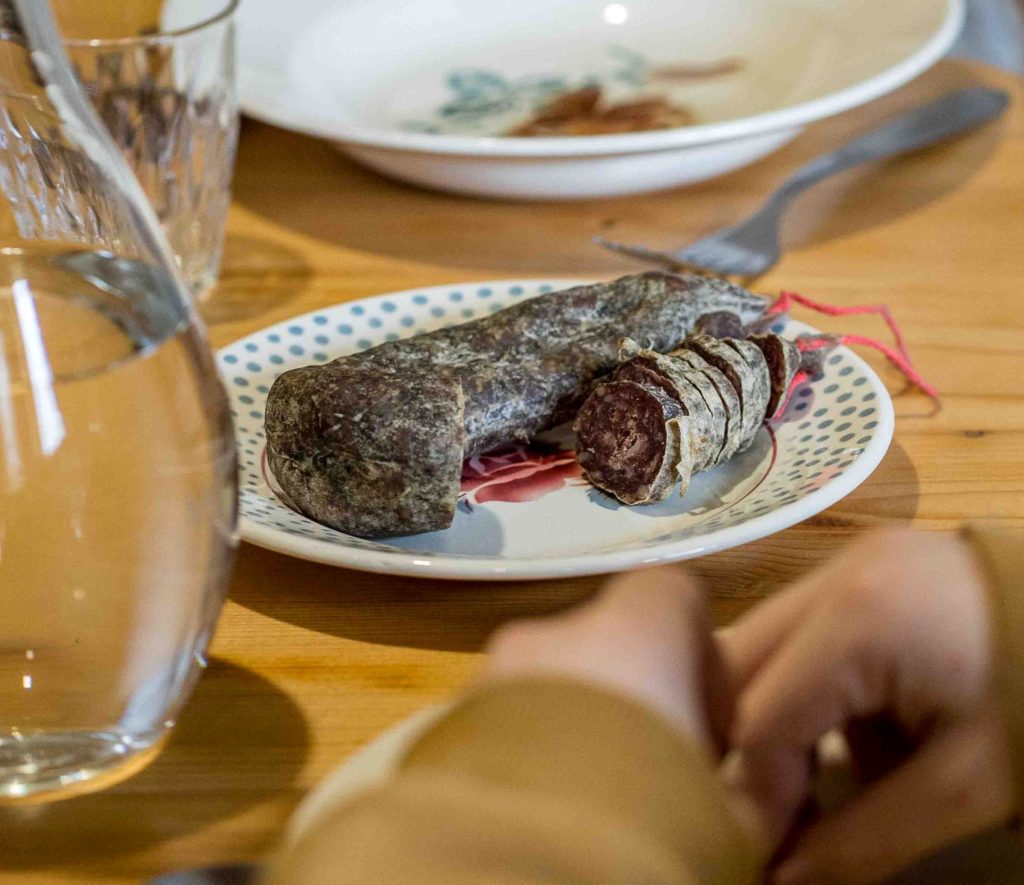 On Mondays, we don't worry about the meal: Michel gets his apron on! While the Auvergne meat roasts on the barbecue and the PDO organic lentils simmer, you can enjoy the charcuterie brought in by a local producer. Hummm!
Campsite Le Pont d'Allagnon, Michèle and Joël's home
Michèle and Joël make you feel right at home! Here, the sustainable approach to the development of the site is carried out with the utmost naturalness and through the many partnerships forged over the course of encounters. In 2023, the campsite was awarded level 3 of Charte +Nature de Fredon France.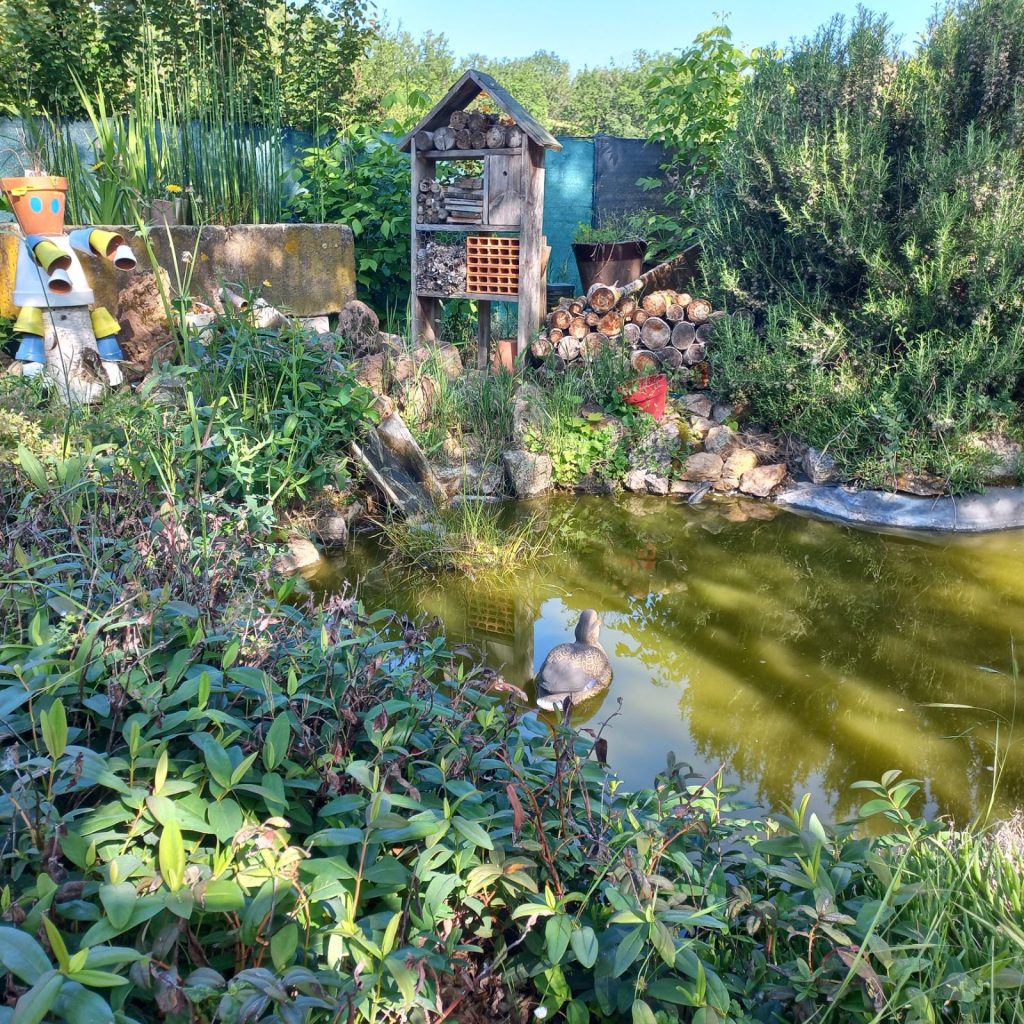 The Charte +Nature de Fredon France rewards the ecological and sustainable management of the campsite's outdoor spaces. The landscaping is designed to preserve the environment and biodiversity. Here you'll find :
no pesticides, of course,
hedges planted with local species,
nesting areas for hedgehogs,
on-site composting and waste management awareness-raising for customers…
A small nod to the owners' love of animals: your children can visit the dwarf goats, chickens and rabbits on the campsite.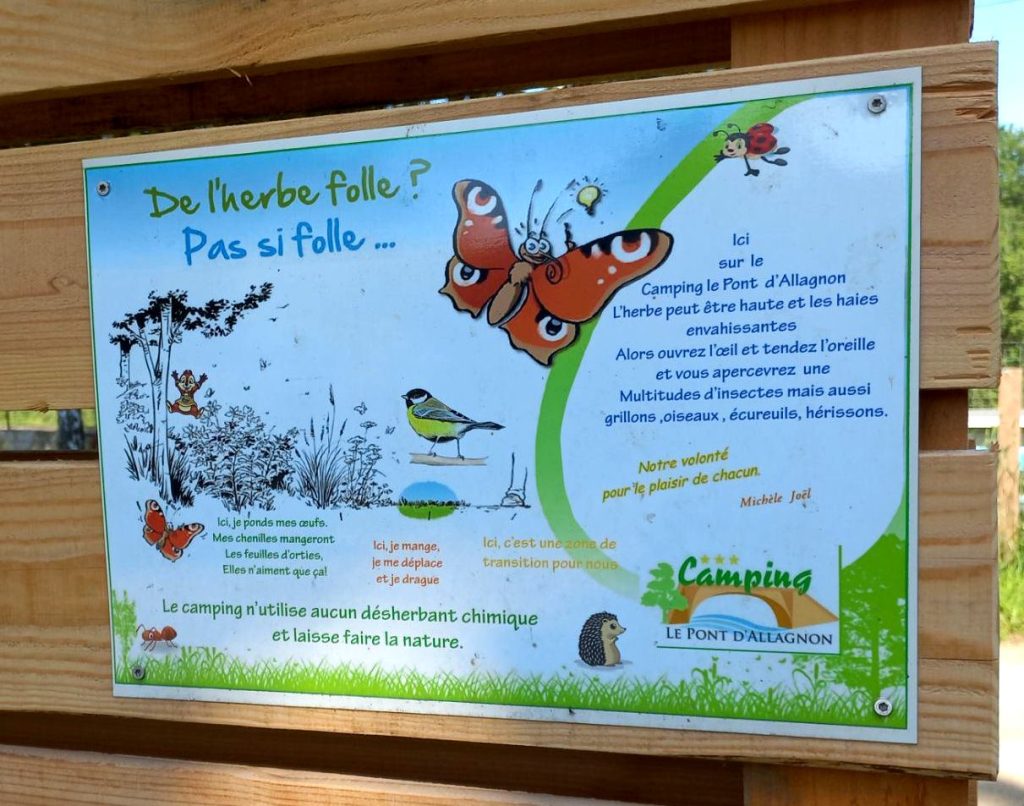 Around the campsite: for an even more unplugged vacation, laze by the Alagnon river, which flows straight down from the Cantal peaks. Or follow Yannick to the rock-climbing crag (5 min. walk). He'll gently introduce you to this sport of communion with nature.


The Haute-Loire department moves up a gear for slow tourism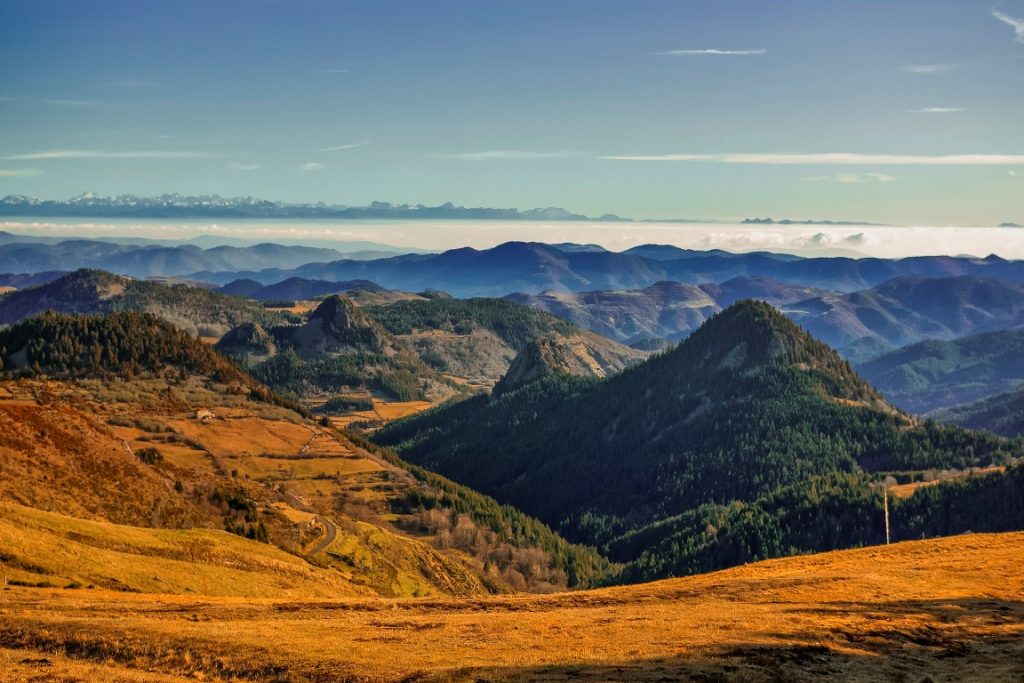 The good news for tourism players in Haute-Loire is that the département is committed to supporting sustainable tourism in its new Tourism Development Plan!
The newly-created " Sustainable Tourism Unit " at the Maison Départementale du Tourisme will be the mainstay of this strategy, designed to promote existing initiatives, train tourism professionals in sustainable development and encourage the emergence of new projects in this field.
Janette Clémensat
Would you like to try a slow and eco-friendly adventure in Haute-Loire, France?