Chad welcomes off the beaten track travelers.Very green in the south and desertic in the north, the country offers a variety of landscapes, fauna and flora and cultural diversity throughout the territory.
The elephant population in Zakouma is now on the rise for the first time in decades. There are a growing number of other species in the park, including the rouan antelope, the Lelwel hartebeest and the kordofan giraffe (in particular, Zakouma is home to 50 % of the world's population).The park buffalo population was reduced to about 220 animals in 1986, but now has more than 12,000 animals.
Zakouma Park is a perfect example of the alliance of the environment and the economy.Managed by the African Parks Foundation, it has become the largest employer in the region, the park providing additional opportunities for local revenue creation by facilitating local procurement of supplies for parks and tourism accommodation and by developing community-based commercial projects, such as
honey harvesting and production.
The park has a virtuous economy that restores not only a much more respectful relationship with the environment that is much more respectful, but also the safety of its territory. Also, more and more travellers visit Zakouma to discover its abundant wildlife.
Since 2016, the Ennedi Massif, located in the north-east of the country, is a UNESCO World Heritage Site.On the rocky surfaces of caves, canyons and shelters, images were painted and engraved, constituting one of the largest collections of rock art in the Sahara.The presence of Mankind in this region dates back more than 10 ' 000 years to the Neolithic.It is a unique landscape that is home to more than 500 species of plants and more than 100 species of birds that pass through it on their migratory routes.The emblematic animal of the region is the crocodile.
Today, Ennedi is still an important resource for semi-nomadic people who need pasture and water for their camels, goats and sheep. There is a tremendous opportunity to transform the conservation of this life-bearing landscape to sustain people and wildlife.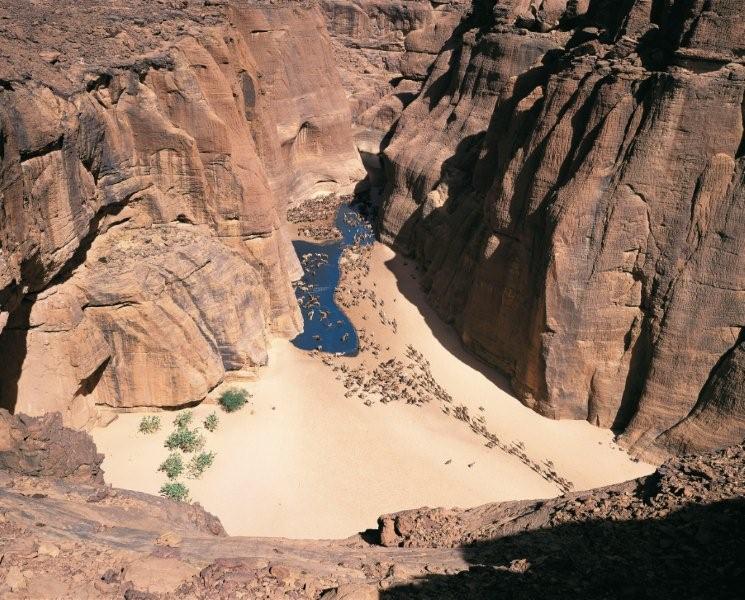 Every traveler looking for adventure will find what he/she is looking for. You will also discover the incredible hospitality of the Chadian people. Traveling through Chad means meeting the Hadjarai, Fulani and Arab peoples and discovering their cultures.