Bali is an Indonesian island famous for its forested volcanic mountains, ricepaddies, beaches and coral reefs. Regrettably, it suffers from over-tourism especially in the south of the island. Construction is accelerating to the detriment of nature and local life, and the busy tourist coastline does not benefit the local population so much in terms of economic development.A water consumption multiplied by 5 in very touristic areas. See the casestudy.
How to participate in developing fair tourism in Bali?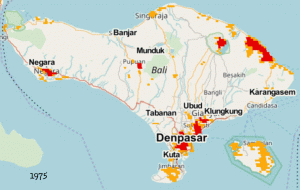 The map here above highlights some pointers to favor sustainable tourism, a true vector of love and peace between cultures.
#1 Munduk area is not very touristy, yet a jewel of nature and favoring beautiful human encounters.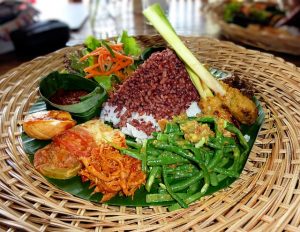 The small town of Munduk is located in the inland region of Bali. Itsinhabitants are less accustomed to seeing tourists, but they are veryenthusiastic about meeting and exchanging with foreigners. The naturearound Munduk is beautiful and an opportunity for great escapes. Many hikingtrails start from Munduk and the surrounding hills are very quickly accessed.Superb walks in the forest delight the travelers with beautiful waterfalls andstunning view on rice terraces, west of the town. After the walk, one can takea break in the small Indonesian restaurants called "warung", very simple andcheap.
#2 West Bali National Park: lush forests, picturesque mountainrange, crystal clear water, and vast expanses of beaches.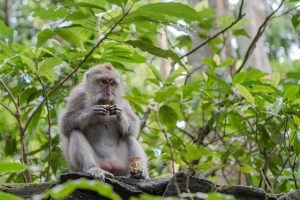 With all the splendors stretching from the heart of its thick jungle down to thedeep waters surrounding the peninsula, West Bali National Park is a truly natural treasure of the legendary island of Bali. 160 species of birds have been recorded, among which the nearly extinct Bali Starling (LeucopsarRothschildi), the only species endemic to Bali and icon of Bali's fauna. Itspreservation is the main reason for the park creation in 1941.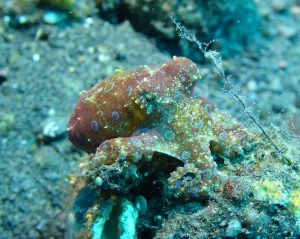 In 2001, hardly six starlings were estimated to be survivors in the wild, all ofthem being in this park. Since then, captive breeding and reintroductionefforts have continued apace, but poaching pressures remain a majorproblem. With this in mind, a second reintroduction program was launched inthe remote areas of Nusa Penida, off Sanur Beach, in 2004.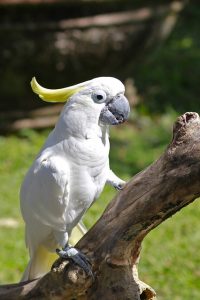 The marine reserve includes the Cape Coast and several sanctuary islandswith many seabirds in Gilimanuk Bay, on Menjangan Island with itsmagnificent surrounding coral reefs. The island is a favorite spot for locals andtourists wishing to dive, for fish and coral reef viewing.