In the western world, we are used to beauty pageants where young women are paraded and judged on their physique and poise, by a mainly male jury but what if the roles were reversed? This is the case with the Wodaabe people during the Guérewol festival.

In-gali, in Niger, is a festival town. At the end of the rainy season, different nomadic peoples (including the Tuaregs) gather there for the "Cure salée", an important salt market that lasts several weeks. On this occasion, the Woodabe hold the Guerewol, a courtship ritual where men try to woo a jury of young women.
To impress the jury, men will have to show off their best assets and for the Woodabe, that means being tall, having white eyes and teeth and knowing how to bust a move in the traditional song and line-dancing: the yaake. On the day of the performance, men wear elaborate headpieces complete with feathers to make themselves look taller.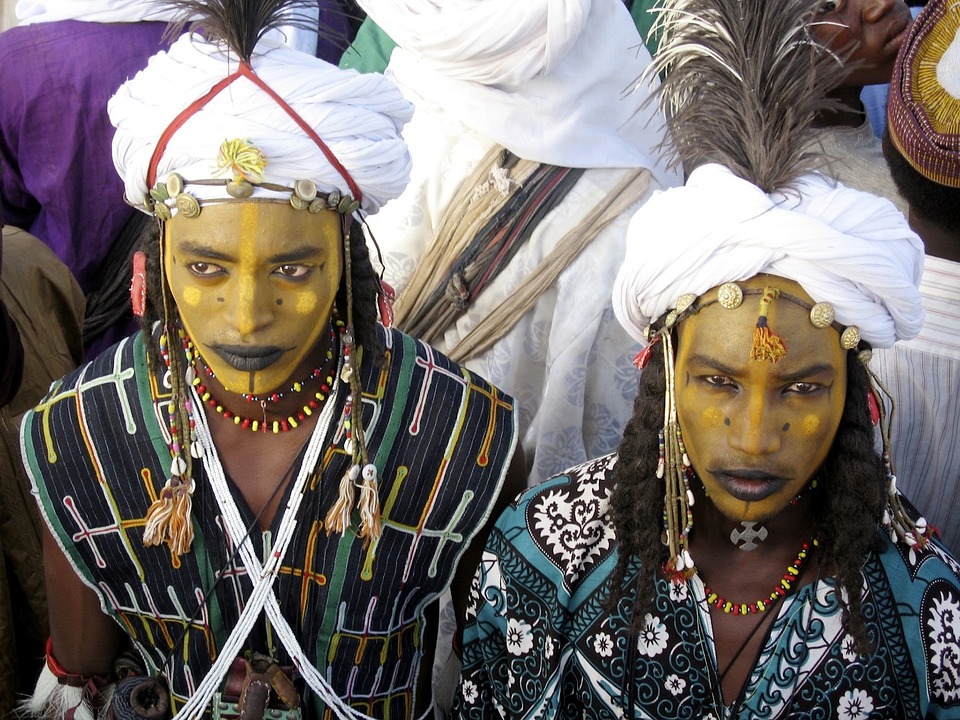 Their faces will be painted with red, yellow or white and their lips and eyes contoured in black to emphasize the eyes and teeth Then, the yaake will begin. The yaake is as important as the dress and make-up: it will show how the men can carry themselves, a way to judge of their elegance. During the dance, the contestants will also heavily roll their eyes and show their teeth in the hope that they will be noticed.
The ultimate winner is designated by three women chosen by the elders and the lucky guy has his pick of a love partner but other women also have their pick. The rest of the week-long festival is dedicated to clan meetings, marriage negotiations, and other social events.
That part is not any different than having to establish a prenup! Practicality always gets involved when it comes to matters of the heart.