5 Offbeat Experiences to Do in Budapest, which is a favourite European destination for travelers… but what about some alternative expériences out of the beaten path? Sure, the Hungarian capital has a lot to offer: an intriguing history and rich heritage, a bustling nightlife and a baths culture that is the envy of all… but if you would like to (mostly) avoid the crowd, here are a few tips to visit Budapest in an unusual way.
---
The Rudas Baths: Make a Splash Like a Pacha
Budapest is known for its thermal baths and usually, what comes to mind when thinking about Budapest and baths are the swanky Art Nouveau Gellert Baths or the sprawling open-air Széneyi Baths but those are more "modern" baths. It's during the Ottoman rule that the first baths structures were built and the Rudas Baths are one of the oldest and one of the most authentic. Under the Turkish dome, the dimly lit thermal bath will make you feel like you are somewhere in the Middle-East. It's very atmospheric and really worth a try. After years of renovation, they added a whole wellness center and several pools which are also quite worth the visit. The water from Guras is known to cure joint aches, vertebral disk problems, neuralgia and lack of calcium in the bones. In addition to the thermal bath, you can also find several swimming pools, a wellness area and a sauna area. Warning: the thermal baths is coed only on weekends. Tuesday is the day for women only (the rest of the week is men only). The swimming pool and wellness area are accessible to all genders.
Rudas Baths, Döbrentei tér 9, 1013 Budapest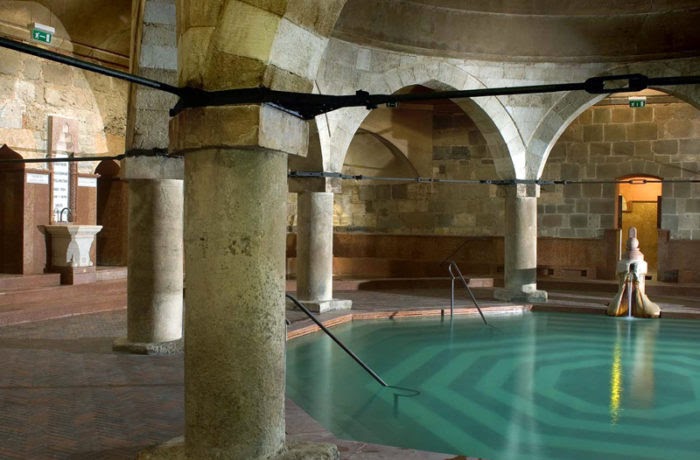 ---
The Metropolitan Ervin Szabó Library: a Library hidden in a Library
Alright, maybe a library does not seem like a fun thing to do while visiting a city… but what if we tell you it's gorgeous and you have to find it because it's hidden? The Metropolitan Ervin Szabó Library is the largest library network in Europe, it's so big it's spread amongst different buildings but the main building is in the center of Budapest. Partly installed into the former palace of Frigyes Wenckheim, this neo-baroque building (it was built in the 19th century) makes a stunning backdrop for reading. You will have to go through the more modern part of the library to access it (and it can be tricky) but once you've reached it; you won't be disappointed! Imagine dark woods panels, floor-to-ceiling shelves full of books; comfy armchairs, gilded chandeliers… You will want to spend the rest of the day reading away!
Metropolitan Ervin Szabó Library, Szabó Ervin tér 1, Budapest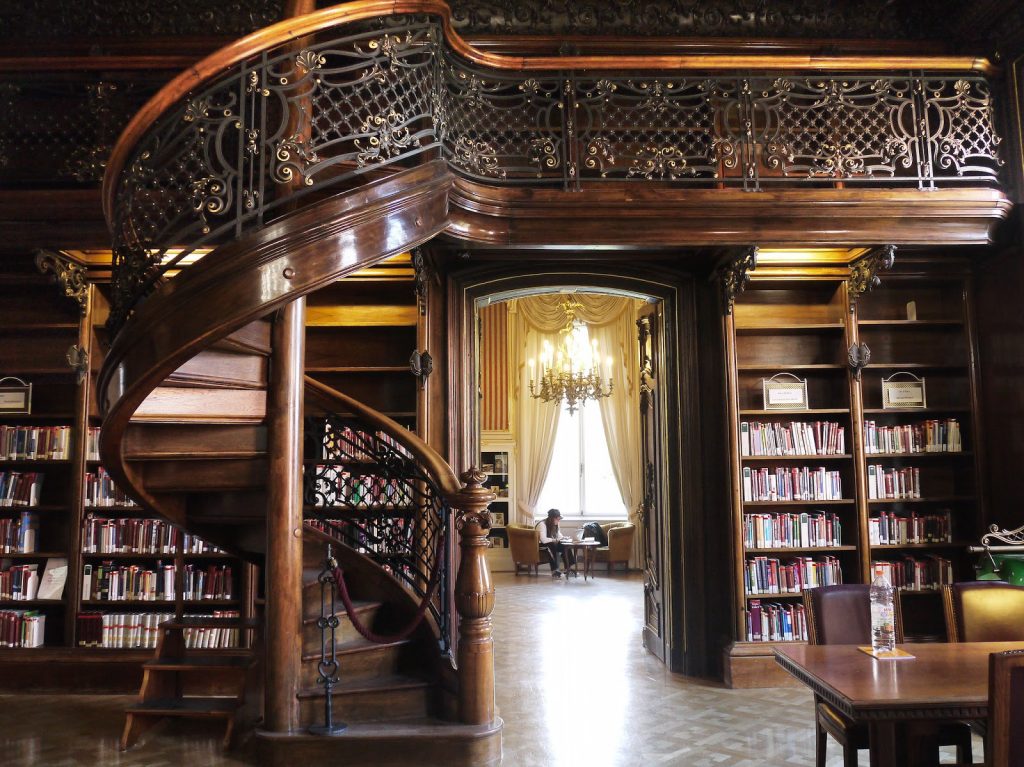 ---
Budapest's House of Terror
The Twentieth Century has not been kind to Hungary. They suffered brutality both during World War 2 (with the Nazi-inspired "Arrow Cross Party") and during the Communist era. Two regimes that practised violent repression of dissent as a tool of control. This museum does its best to convey a sense of… terror about terror. From the dark halls to the propaganda clips… even the music is adding to the gloom and doom. Visiting the House of Terror will give you a sense of history and better understand where Hungary is coming from.
Terror Háza Museum, Andrássy út 60, 1062 Budapest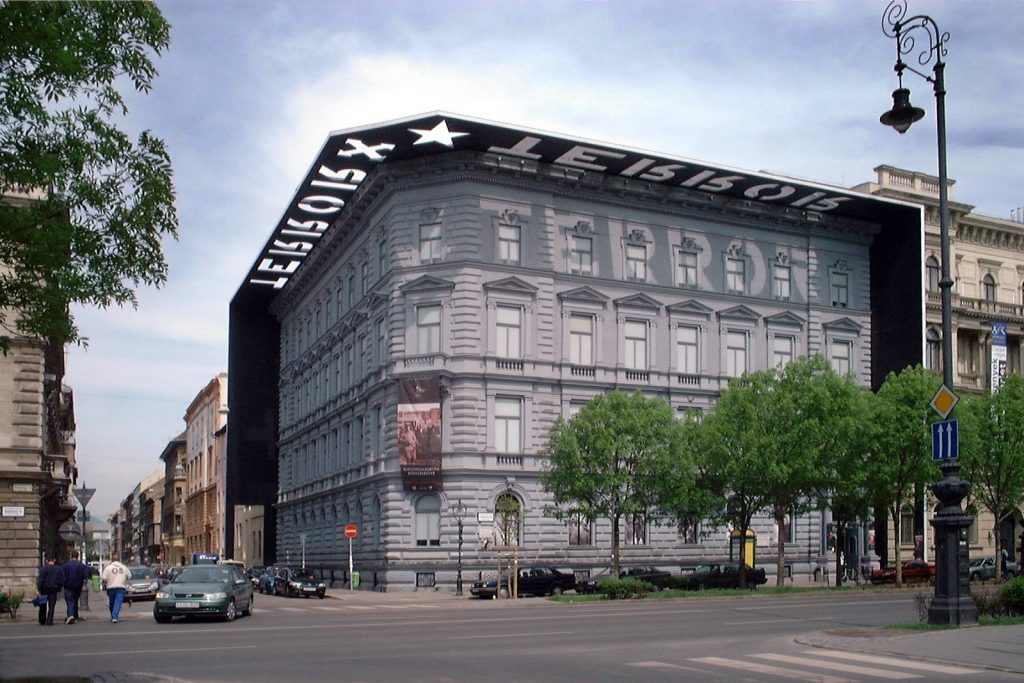 ---
Go Drink at a Ruin Bar
One of the things that made the reputation of Budapest as a trendy destination are its ruin bars. Imagine having a drink and a bite in a derelict, often pre-war, building? It's an experience that can't be missed. here are a few of our recommended spots…
The most famous is without a doubt Szimpla Kert, a pioneer of the ruin bars. It's a huge place (actually, a former factory) and it's become a little over-popular but as the "Godfather" of the genre, it deserves a visit. If you are not into the party scene, you can come and visit their farmer markets; go see a movie or concert and sip a craft beer.
For a more "upscale" ruin bar experience, let's go to Csendes Vintage Bar & Café. The setting here is very different. It's not a factory this time but it used to be a café from the glory days of the Austro-Hungarian Empire. Imagine a coffeehouse the likes of which could be found in Vienna with the high ceilings and grand chandeliers, worn by time, with a wacky decor combining photographs, collages and upside down Barbie dolls… You get the point!
For a fun take on the Communist era, the Red Ruin is one of the quirkiest ruin bars. Just take a look at the wall painting of Lenin with a punk mohawk and you'll figure out the vibe of the place. Of course, everything in there is… well… red… with a lot of colorful painting poking fun at Communist figures (and Vladimir Putin). All comrades are also welcome to try craft beers.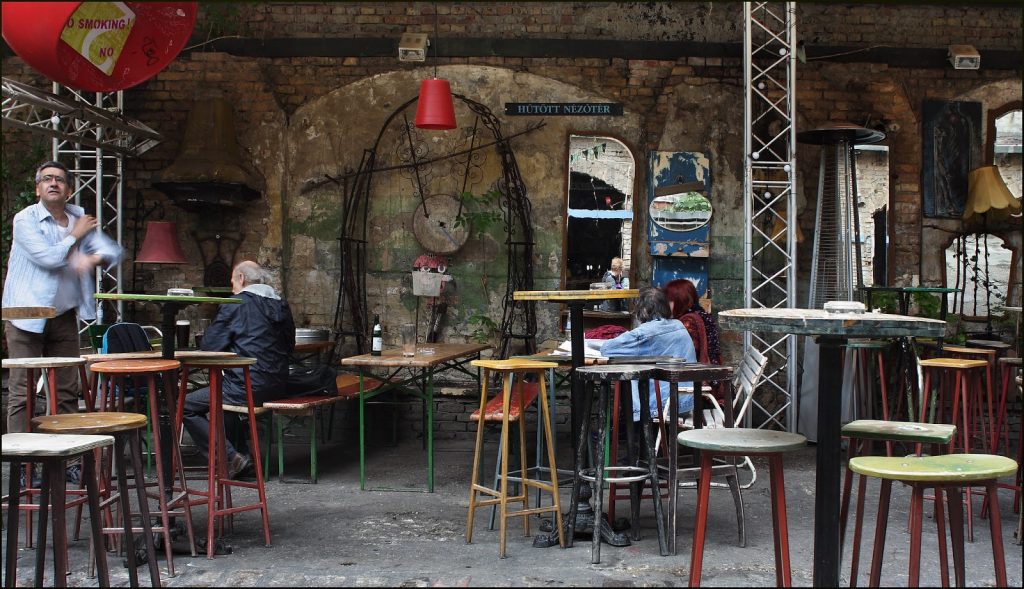 ---
Walk the streets of Újlipótváros, Budapest's West Village
Fancy something completely different from Budapest's main architectural style? Welcome to Újlipótváros. This residential neighborhood centered, along the Szent István Boulevard is almost like a village. The whole area has been built on a vacant lot in the early 20th century to accommodate a growing population. Tall buildings in Art Deco and Bauhaus were the go-to styles at the times and soon enough, Újlipótváros became the place to live for Budapest's middle-class and intellectuals. Many of its inhabitants before World War 2 were Jewish and some were saved thanks to the action of Raoul Wallenberg, a Swedish diplomat who rented several places in the neighborhood and declared them extraterritorial Swedish properties, protected by diplomatic immunity. This action combined with the delivery of protective passports helped save 20.000 Hungarian Jews from deportation.
After the war, Modernism was the favored style of the Communist regime and you can find some of the finest examples in Újlipótváros. Nowadays, it's a prized and fancy part of town, especially the part facing the Danube, and it's filled with nice restaurants, cozy coffee houses, bars and is home to the Budapest Jazz Club and… the Budapest Flipper Museum!