One month ago, we had the chance to meet Rémi Camus to record an episode of our podcast "Le Vert à Moitié Plein" and talk about his future expedition: Calvi – Monaco swimming and in total autonomy.
Let's go back in words and pictures on this interview!
Who is Rémi Camus ? 

"Before turning to the dark side of the force and becoming an adventurer-explorer", Rémi Camus was a Maître d'hôtel in a Michelin-starred establishment. 
It was by chance that he came across the book that was to change his life: Au cœur des Amériques by Jamel Balhi, the autobiographical account of a journey across America by running.
"It's the book that inspired me and made me want, in turn, to embark on an adventure and say to myself: if the guy did it, he's not superhuman, he's not superman: so I can do it too."
 Running across Australia: the ecological click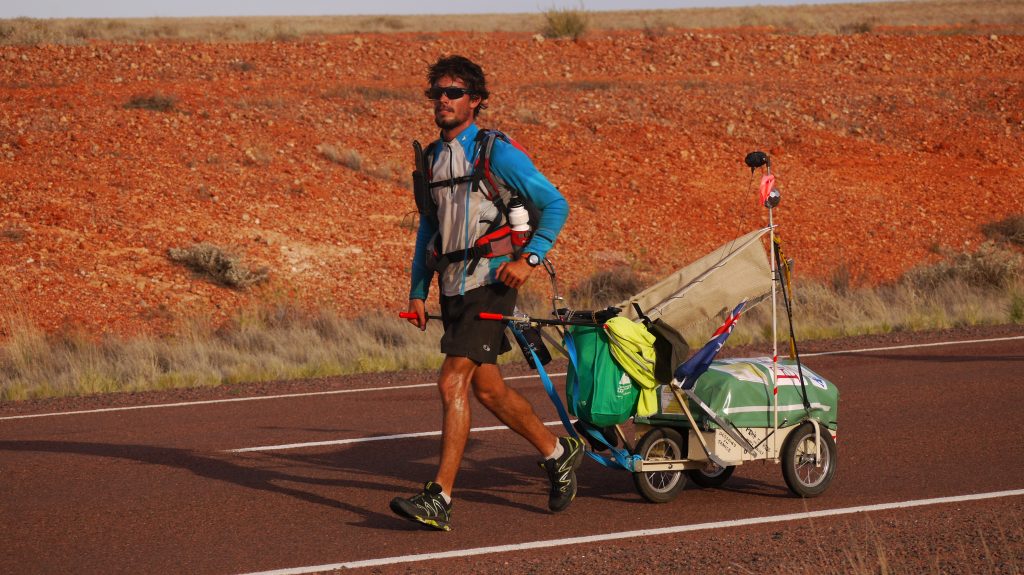 (Running across Australia ©Rémi Camus)
In 2011, Rémi embarked on his first 5400km expedition across the Australian outback, alone and without assistance.
"In Australia, anything can happen. No two days are alike. In the middle of the bush, things happen and you say to yourself "but it's not possible, I've just dreamed". In fact, this can only happen in Australia."
But above all, it is during this adventure that Rémi is confronted for the first time with water-related issues.
"It was not when I was building this adventure that I said to myself that I was going to focus on a particular theme. But during my adventure in Australia, I discovered what water scarcity was. That's what really struck me: to say to myself 'I might die in the desert, because I have no water'."
It is decided that his next adventures will serve to raise awareness of water issues in the world.
Rémi Camus, an adventurer across the water 
Hydrospeed down the Mekong: the shock of pollution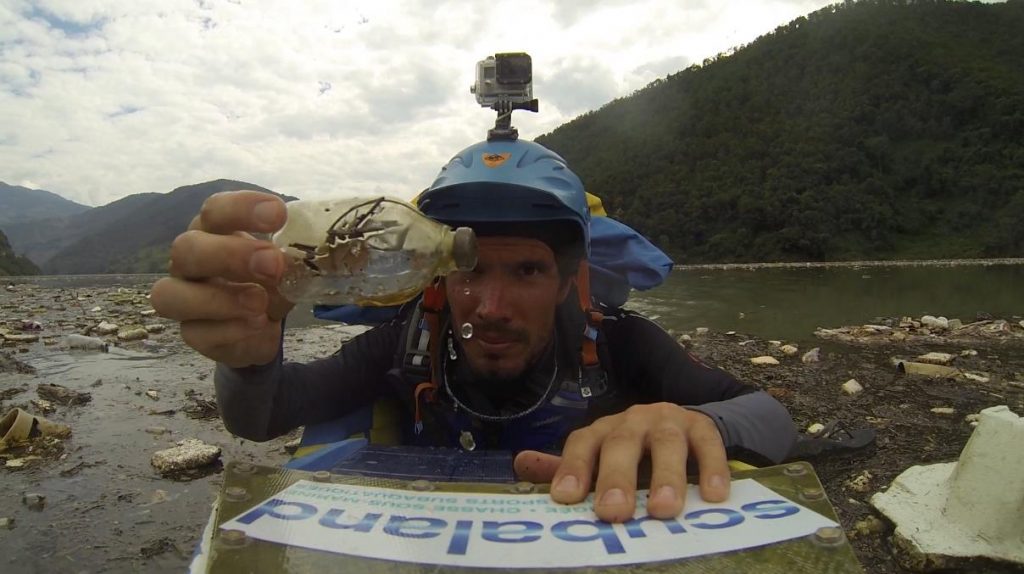 Hydrospeed down the Mekong, ©RémiCamus
"After discovering the scarcity of water, I wanted to see the opposite: the abundance of water.
In 2013, Rémi embarked on his second great adventure: the descent of the Mekong River by hydrospeed, from Tibet to Vietnam, to meet the people who live on the river and understand their way of life around it.
"The Mekong is one of the top 10 most polluted rivers in the world. Due to a lack of resources, political choices and infrastructure, people dump their waste directly into the river, without thinking about the problems that this can cause.
4400 km and 6 months of a physically and morally tiring adventure. After the shock of the pollution of this "garbage river", our adventurer returns more determined than ever to continue fighting for the preservation of water. His next adventure will be along French coast.
Swimming around France's coasts: awareness-raising continues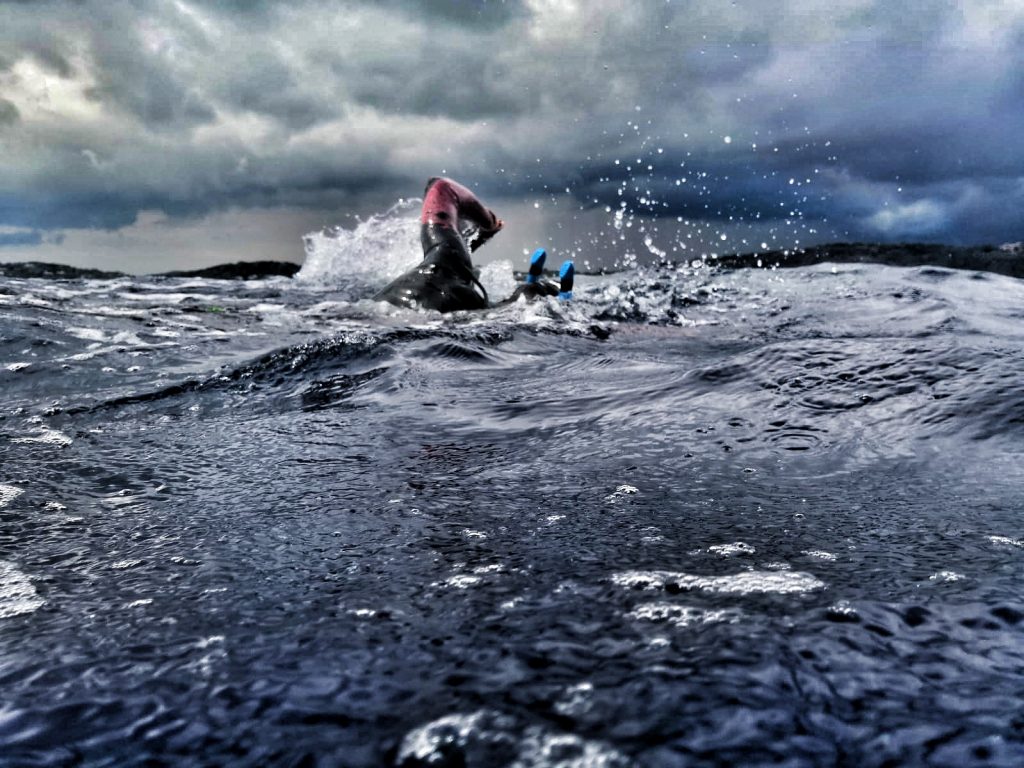 Swimming around the French coast ©Rémi Camus
In 2018, Rémi is completing his third major exploration: swimming around the French coastline from Dunkirk to Monaco.
The aim? To raise awareness about the difficulties of access to drinking water in the world and the preservation of this resource.
"I was convinced that our French coastline was clean compared to what I had seen in South-East Asia, where there is a real horror vision of waste. But I was wrong. We have many even more vicious problems with micro and nano plastics that are almost invisible to the naked eye."
Indeed, if we also find in France solid and visible waste, the majority is in fact micro and nano plastics: the most complicated to clean and to treat.
And as one project leads to another, Rémi tells us in the podcast about his next sporting and ecological challenge: the Calvi-Monaco crossing by swimming.
The Calvi-Monaco crossing by swimming and in autonomy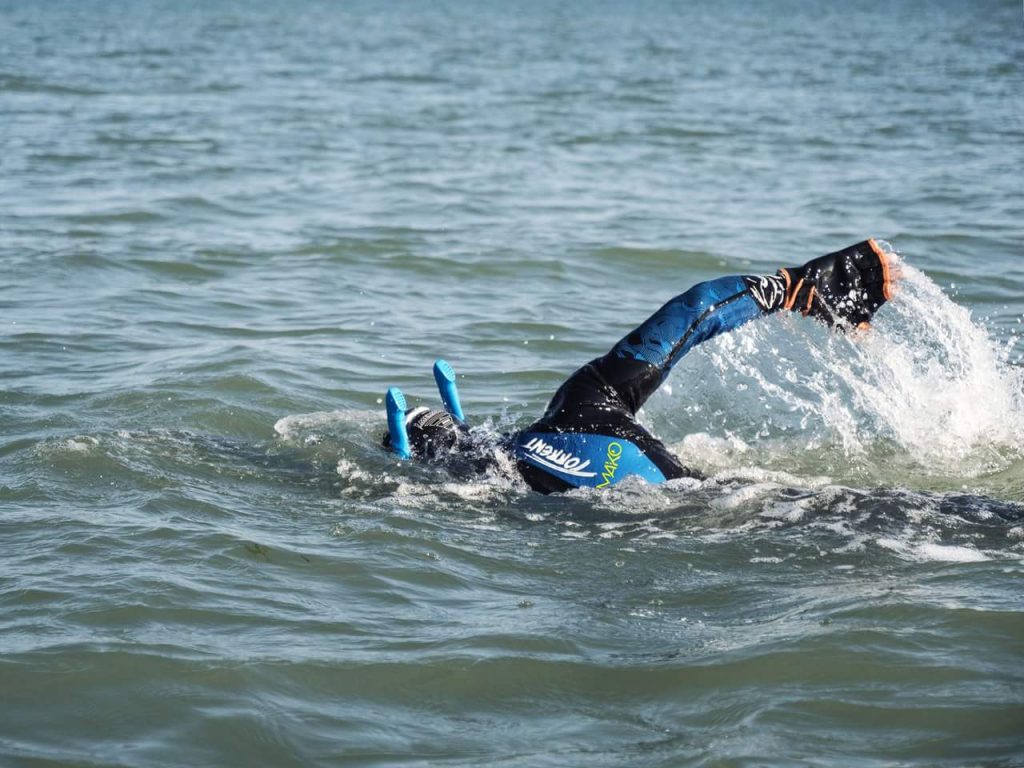 Preparation of the Calvi-Monaco swim ©Rémi Camus
The project 
As a logical continuation of his adventures, our favourite adventurer has been preparing his next big expedition for almost two years: to swim from Calvi in Corsica to Monaco, alone, without assistance, and towing a platform containing his survival equipment for the crossing. 
The objective of this expedition? To create a real human adventure to raise awareness of water conservation. 
When will it take place? In September 2022 and it will last between 8 and 15 days. 
A human adventure above all
The sporting challenge itself will be completely autonomous. But for Rémi, the most important thing, beyond the ecological challenge, is the human adventure that comes with it. 
More than 70 people are working on the project. From schools to start-ups, NGOs, entrepreneurs, video makers, etc. 
"Through this challenge, we really want to take everyone with us and raise awareness. We want it to be a real human adventure because it's not just one guy who swims but a team that has managed to set up this project and bring everyone up."
The digital race 
"Because we thought that the adventure itself could be very disappointing for the people watching, we decided, thanks to a young entrepreneur called William Lainé, to offer the race as a digital competition.
Based on the observation that not everyone has the ability, knowledge and financial resources to sail at sea, William Lainé, a young entrepreneur and rowing coach, developed an innovative concept in 2021: digital ocean racing. 
The goal? A 100% digital rowing competition to get everyone on board!
How can you do it? Alone or in a duo, for 7 or 15 days. The first to arrive in Monaco wins! 
When? The departure will be the same day as Rémi. Registrations will be open from July-August… to be continued!
"People will be able to film themselves and send in their videos to feed into the live site and we'll see each other with a slider to challenge each other, create a real buzz, this competition."
A financial contribution will be requested and the money collected will be donated to the 3 NGO partners of the project: Trash Potter, which geolocates waste, Project Rescue Ocean, which collects waste, and Gestes Propres, which works with communities.
In short, a great adventure, a human, sporting, technological and ecological challenge, which we are looking forward to discovering from September! 
To wait, we can already follow Rémi's preparation, such as his swim around Lake Geneva. 
To find Rémi and follow all his adventures, click here: