North Vietnam is a region of the country not to be missed. Not only because of Hanoi, the capital of Vietnam, but it is also where you will find breathtaking bays, superb rice terraces and unrivalled landscapes. The cultural attractions of northern Vietnam are as diverse as the local populations, from the highlands to the mountain tribes of the far north. Here are some ideas to guide you to the main destinations of the region.
Halong Bay is, without a doubt, one of the most popular destinations in northern Vietnam. However, the less known and smaller, Tu Long Bay deserves the detour. Close to Halong, it also has a limestone plateau, beautiful blue waters and an abundance of small islands. Much less crowded than its neighbor, you can take places on boats that take you to the Bay's main sights during the day or over several days.
One of the most remote provinces in the country is Ha Giang.Close to the border with China, Ha Giang province is known for its green forests and granite mountains. It is an incredible destination for exploring ethnic diversity and participating in outdoor activities such as camping or hiking. As a picturesque province, Ha Giang is home to hundreds of spectacular views. Outdoor markets are common in Ha Giang, with residents traveling to attend these weekly or monthly events. One of the most exciting is the Dong Van market, which takes place on Sunday.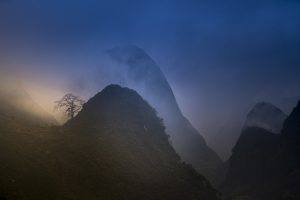 A few kilometres from the Chinese border is the town of Bac Ha. There are a handful of local restaurants serving delicious and inexpensive food, and several vendors sell handicrafts.What is really worth the trip to Bac Ha, however, is the Sunday market. Every Sunday morning, people from all over the region gather at Bac Ha, and this becomes a cacophony of colors, sounds and dynamism. Members of the surrounding mountain tribes make purchases and sales, making it a great opportunity to see a range of ethnic clothing and cultural diversity in one place.