Winter in the mountains is not necessarily all about skiing. The Alps are a trekking and hiking wonderland. Imagine snowy peaks, pine trees blanketed with snow, frozen streams and the soft light of a beautiful wintery sun. And who said hiking was just walking ? Snowshoeing, skijöering are also alternatives to consider.
What kind of family winter hikes in the Alps?
Snowshoeing with the kids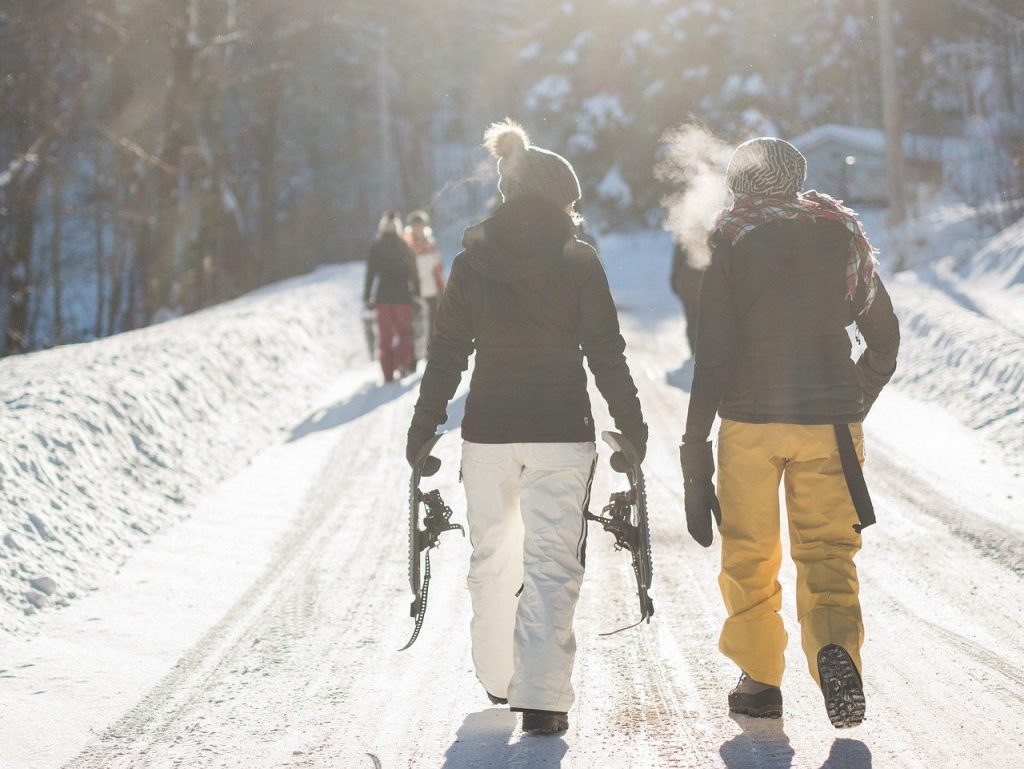 One of the more popular hiking options is snowshoeing. Easy, inexpensive; it's also a great way to get a bit of exercise. You can either follow groomed trails or hit off virgin territories but in this case, always with a mountain guide! One of the main advantages of snowshoeing is that it is very democratic. The equipment is affordable (and in case you don't want to buy snowshoes, you can always rent them), It does not require a lot of technique, you just need to get used to walking with really large shoes.
Snowshoeing is also a fun activity to do with the kids. How old do you have to be to start snowshoeing? Children as young as 3 years old can begin to learn.
Ski-joëring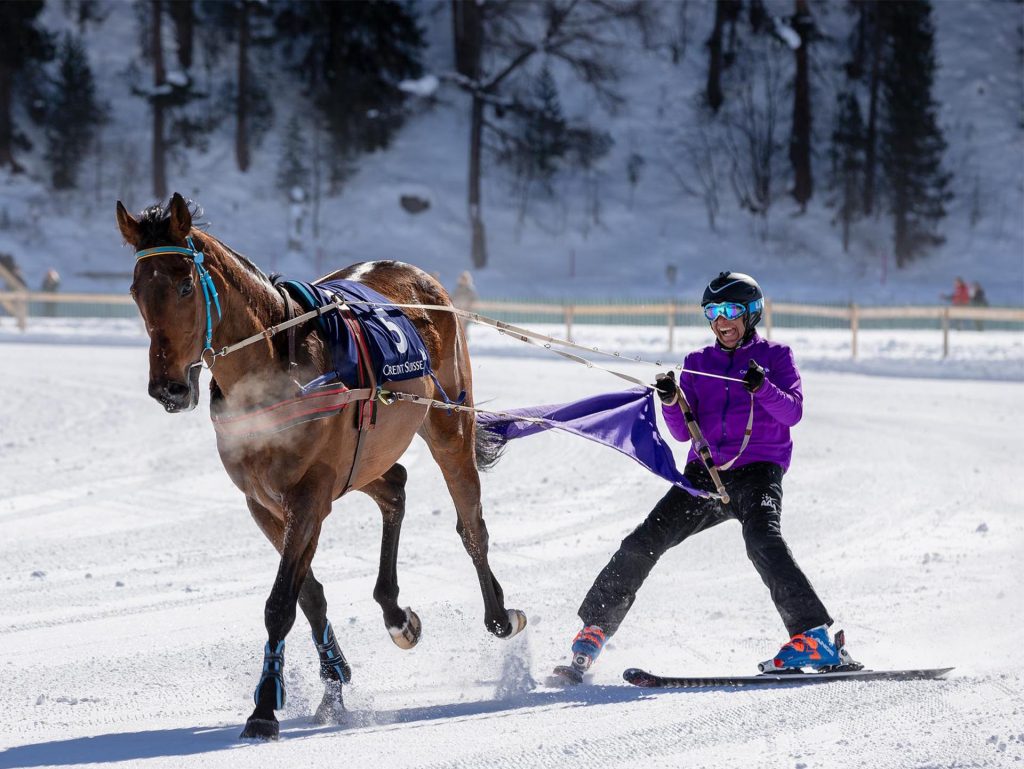 Don't feel like walking much? How about a little help from a horse? Ski-joëring comes from Scandinavia where snow covers the ground for months. Horses were used to tow humans on skis or sleighs.
Now, this activity can be found all over the Alps and is especially popular in St. Moritz, in Switzerland. It's a totally different way to see the landscape and a nice alternative to dog-sledding. For younger children, the same can be done with a poney towing children on a sleigh. Talk about a magical time of the year!
What kind of equipment for a winter hike?
Being prepared for a mountain hike is really important, especially in winter. Be sure to wear clothes in layers (a thermal sub-pullover and underpants, pullover and wool pants and fleece jacket and pants, glove liners and insulated gloves, hats, baklava, neck warmer, waterproof boots. Even if you're doing a day hike, make sure that you bring some change of clothes in case it gets wet. And for vitality some food and water in an insulated container (according to the length of your hike).
For multi-days hikes and trails; you will have to check with your guide or experienced hikers what you need to bring.
Top Winter Hikes in the Alps

Now that we gave you a few suggestions and advice, how about a curated selection of some beautiful winter hikes and trails all over the Alps ?
Leutasch Valley, Austria
In the Olympiaregion Seefeld of Tyrol, this 4 days long-distance hike is obviously for those who like to walk. There will be no need for snowshoes and each night, after a day in the cold, but often sunny Tyrolean mountains, you will overnight in hotels and in a mountain hut. One of the perks of this hike? You won't need to carry a heavy backpack, a daypack will be enough since the rest of your luggage will be transported from each leg of the day.
Brambrüesch–Feldis Trail, Switzerland
If there is one canton that embodies all the Swiss clichés, it's Graubünden. After all, it's where Heidi was born! Not far from Chur the canton' capital, you will find this beautiful, moderately difficult hike. Grab your snowshoes and be ready to go through a mix of mountains, alpine pastures and forests. This panoramic hike won't disappoint.
Carbonin-Prato Piazza Hike, Italy
Prato Piazza is one of the most beautiful places in the Dolomites and is particularly magical during the winter. This moderate hike will take you to Prato Piazza, a large mountain pasture located at 2000m above sea-level surrounded by different peaks. One of the highlights of the Dolomites.
7 days Queyras Trek with snowshoes, France
This one is for committed hikers. The Queyras are known to have the highest valleys in the French Alps. It's a wild and beautiful country filled with high mountain passes, traditional villages and alpine forest. Although popular in summer, the Queyras tour can be done during the winter.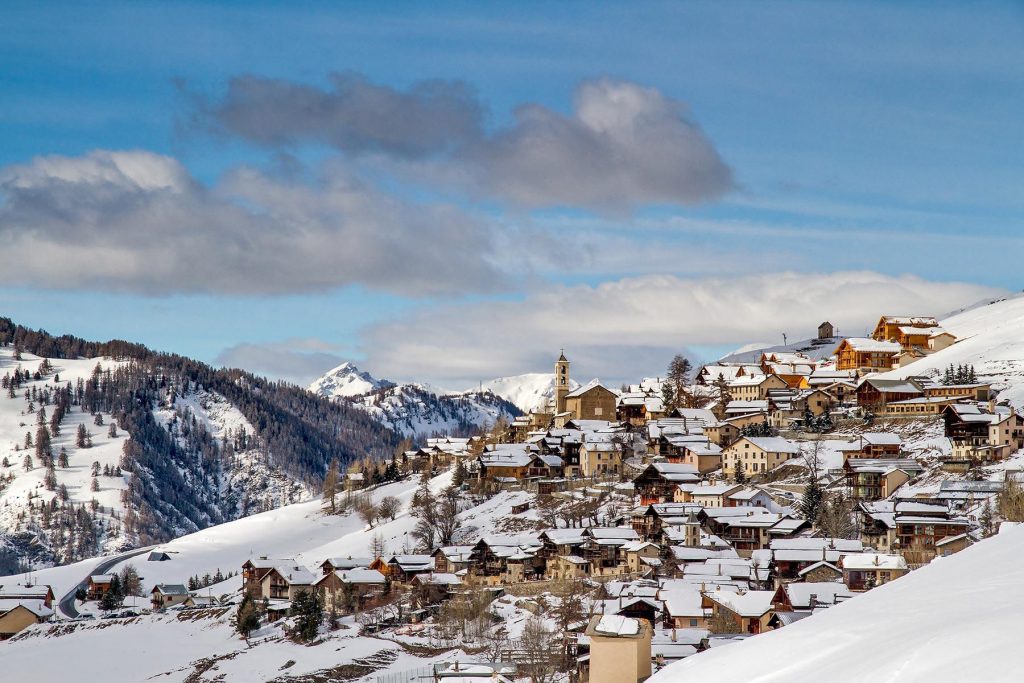 Are you looking for other hikes? You will find them by walking on our subscriber's side!